Did your blotter acid go bad? Does your stomach not like shrooms? Are you still pissed at your parents for making you go to church instead of playing video games on Sunday? Are you fucking sick of these questions? I am and here is the white noise remedy.
"Hopital Brut" only kicked you in the head, "Religion Sauvage" breaks your nose and kicks you in the nuts so hard they go up into your throat. The French art collective, Le Dernier Cri, put together another collection of animated shorts based on another one of their comics "Religion Sauvage", which is critical of religious belief, that not only includes Jesus, Satan, Allah, Krishna etc. It also includes being critical of people who worship sex, drugs and rock n' roll, like Gods.
Featuring underground artists from around the world doing animated shorts like on "Hopital Brut" people like Mike Diana, Stu Mead, Tochka, Melted Men, Valium etc. this smorgasbord of degeneracy will make your head spin and your mouth water. Most of these artists don't ever do animation, they do paintings, comics, and drawings. This collection rapes you, cuts off your head and has sex with it and it isn't pleasant.
This is "Liquid Television" for adults, and "Liquid Television" was made for adults!!! There is piss, shit, sex, useless violence, dumb racism, sacrilege, Lolita complexes etc. This will piss off every person of every stripe. This white noise doesn't give one fuck about your sensibilities or feels. "Religion Sauvage" cuts your feels into tiny, bloody pieces, devours them and shits them out. The gif above was taken from the Stu Mead segment, Stu normally paints and draws and this is one of his paintings put into animation, the dude has been crippled from the day he was born and has a Lolita Complex, his short is like something from a 1920's stop motion film made by the people who manufacture nightmares.
Like "Hopital Brut", "Sauvage" will make your heart race and make you confused, beware, this visual noise can be disorienting, and I am telling you drug heads out there right now, DO NOT DO ANYTHING WATCHING THIS. Seriously, I don't do substances like that anymore (only caffeine) and I can tell you watching this on anything will be really unpleasant.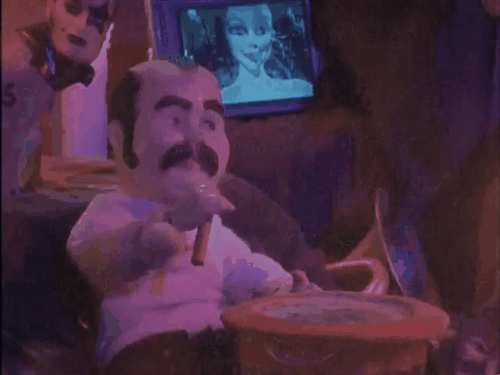 Some shorts will make you laugh, some will make you angry, some will make you want to scour your eyes out with a Brillo pad, some will make you cry and some will make you break the device your watching "Religion Sauvage" on. These are all good things when any piece of art will make you feel that way. Do I agree with the message? I don't talk politics or religion on my blog unless its part of the content of the piece of noise I am reviewing. So yeah none of your damn business, I could be a frothing at the mouth atheist who thinks all the digs at religion are great or I could be a closet Jesus Freak who bristles at the content but loves the art. But I am not telling you which one I am.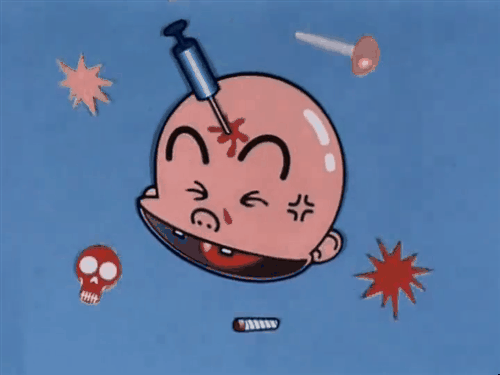 With this collection you get every variety of animation: Stop motion, regular cell animation, claymation etc. as well as live action segments, all meant to provoke. This thing spits in your face and wants you to punch back hard, it provokes but it also makes things interesting. Two hours is the run time of this thing and I wasn't bored for one second, my jaw was on the floor for almost all of its running time. Again, like "Hopital Brut" which I reviewed prior (review of "Hopital Brut" and link to watch it here http://www.noisepuncher.net/2020/11/29/short-s-hit-list-hospital-brut-1999/), it sometimes gets into "pretentious up its ass" art snob territory but than it pulls itself back from precipice of art student assholery.
The nightmare logic of this collection drifts in and out of beauty, ugliness, hilarity, brutality and the unbelievable. This is one of these collections that if I drifted off to sleep during watching it and woke up I'd wondered if I'd actually dreamed or actually saw it on this compilation. Is that a plus for this visual noise? Maybe, depends on you as a person. I found this on a external hard drive my buddy gave me of weird short films, holy shit, isn't the right word.