To be completely honest I bought these issues of "Mome" because Al Columbia had work in them, and for no other reason, that being said the comics and art in the rest of these issues is pretty damn good. "Mome" was edited by Gary Groth and featured cartoonists that were new to the game, with a few old school hands on deck. "Mome's" content is varied but the same themes seem to repeat themselves in each issue, mainly dealing in philosophy, dreams, imagination and some autobiographical stuff thrown in. Gary interviews a different artist in each issue. I have five of them, all featuring some of Al Columbia's work but I will go through them one by one and give some highlights not a run down of every story in each issue.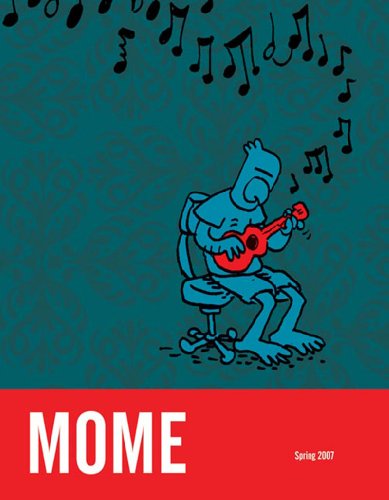 "Mome" issue 7, Spring 2007 is the first issue featuring the illusive Al Columbia's work, its a series a of pieces titled "Chopped Up People" what you get is Al's twisted sense of humor bleeding off the pages. You get Pluto, Mickey Mouse's dog, chopped to hell smiling his head off, a portion of a comic strip featuring Al's recurring characters Pim and Francine, a blue smiling man cut into pieces etc. you get the drift, in Al's nightmare Fleischertoon world anything is possible even smiling cartoon corpses. Eleanor Davis' "Seven Sacks" is another highlight, a ferryman takes seven different weird creatures across the river with each getting bigger and bigger, each with a sack going to a gathering, at the end the ferryman sees a foreboding column of smoke in the distance and pushes off hurriedly to the other side. Sophie Crumb (daughter of (in)famous underground comix couple Robert and Aline Crumb) does "Lucid Nightmare Pt. 2" about a trio of kids that do "Z-9" which transports a person to the "Land of Sweet Dreams" but also has them waking up and not knowing where the hell they are with a really bad hang over, and thinking they might be kidnapped by predators. "Nothing Eve Part 3" about a group of guys in a bar who are deciding on what they want to do before the end of the world by Kurt Wolfgang. In "Al Loose Ends Part 2" Lewis Trondheim does the autobio thing which I normally hate but in this one he tries to find out from his fellow cartoonists (mostly French and Dutch) if the cartooning profession causes the cartoonist to age badly or cause more depression than other professions. "Hollow Leg" is a dream bout a girl having a hollow leg that talks to her by Anders Nilsen. And another dream (or nightmare) comic comes our way via David Heatley at a house party where September 11th, 2001 gets replayed in a absurd way.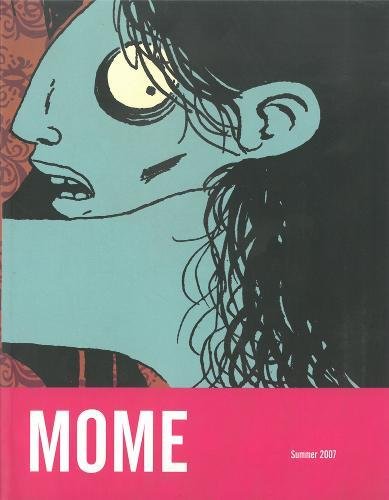 "Mome" issue 8, summer 2007 has Al Columbia's "Fucking Felix" and with this one we're back in Columbia's "Fleischertoon from hell" world. It is literally that, Felix the cat getting fucked in nine, single black and white pages, Felix awaits his lover, a bald man in a suit who gets some "pussy" and "makes" in Felix's mouth, Felix spits out tadpoles. Again Al's twisted, sick humor oozes through. Eleanor Davis has a bard meet and enchant a woman of the wild in "Stick and String", or is she the one doing the enchanting? Sophie Crumb does "Lucid Nightmare Part 3" where the kids wake up from the "Z-9" trip to be chased by a maniac and they have no idea where they are at. Tom Kaczynski has a character named "Cayce" who has a dream, he wakes up in the future in 10,000 years, and he watches a TV show with Karl Marx leading a zombie revolution on Mars. In "Young Americans" Emile Bravo does a comic strip taking place in the 1950's and the strip proceeds innocently like a comic strip from that period with a intellectual father trying to relate to his jock/sports addict son but then the strips repeats the same panels and makes the dialogue more profane which gives you pause for thought. "Hide and Watch" by Joe Kimball is a surrealist comic where the sun gets attacked by light bulbs and various other, unexplained things happen. And Trondheim does "At Loose Ends Part 3" in which he further explores if cartoonists age worse than any other profession.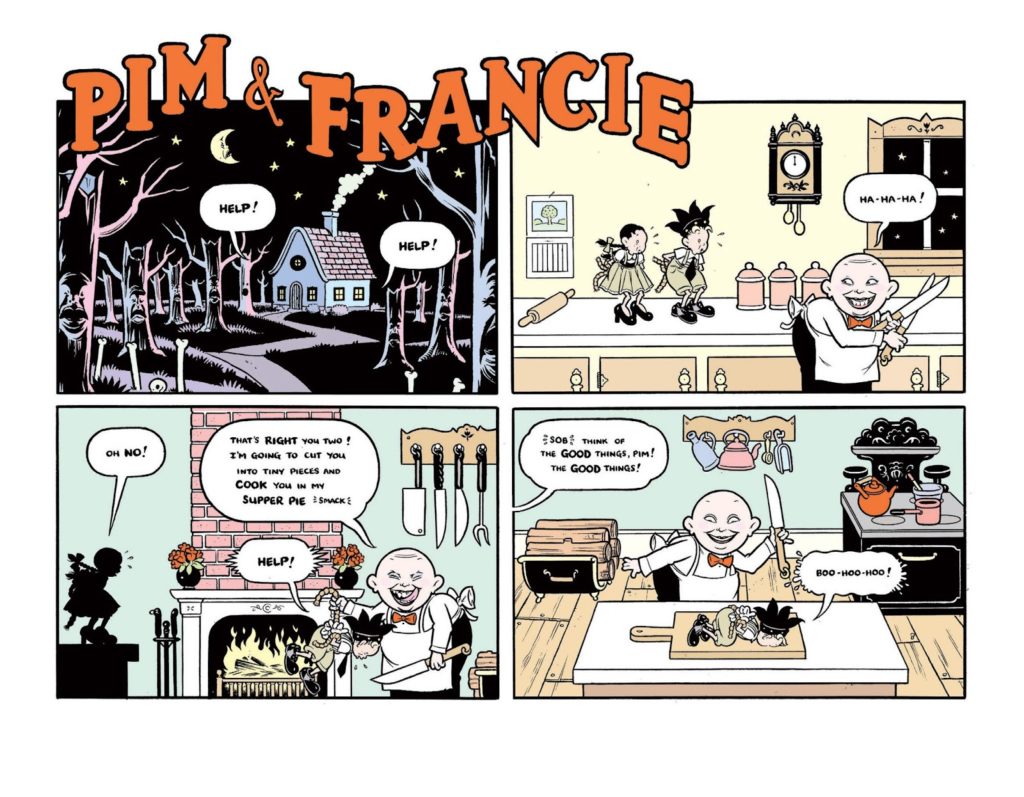 In "Mome" Fall 2007, Al Columbia actually follows through on a Pim and Francine strip! Normally, Pim and Francine are only featured in partial strips, one page art or scraps. In this one Pim and Francine get eaten by a bald headed butcher who bakes them into his pies. "Shhh!" Tim Hensley goes 1960's art style with a tale of a guy trying to woo a girl with a band contract in a library. Jim Woodring does his weird, anamorphic squirrel character, Frank, in his weird, abstract, Buddhist/Hindu world in "The Lute String Pt. 1". Joe Kimball tells the tale of vampire love in "The Lifer". Then there is pages of Mike Scheer's ballpoint pen drawings that are jaw dropping with an intro by Eric Reynolds. Tom Kaczynski has a new condo slowly drive people insane in the surrounding community in "976 Sq Ft." Sophie Crumb does "Lucid Nightmare pt. 4" which is the final part were the addicts escape from their captors to join up with a bunch of hippies.
"Mome" issue 11, Summer 2008, Al Columbia goes off the "1930's cartoon from hell" thing and paints a scene of a sad, lonely, empty and deteriorating house, the panels show and emote the loneliness of the house, near the end you see a older woman with a rope around her neck but the question is was it a suicide or foul play? In the comic "5:45 AM". A woman sees every man looking pig like but when she comes across a man she likes she sees him looking like a male version of herself, but his penis has the head of the piggish man in "Einmall Ist Keinmal" by Killoffer. Eleanor Davis does "Its Dot and Louisa in the 10.000 Rescues" each panel features the aforementioned characters in different weird rescue situations. "In Million Year Boom" a man goes to help develop public relations for a brand new "green community" that is a lot more than it seems and more horrific.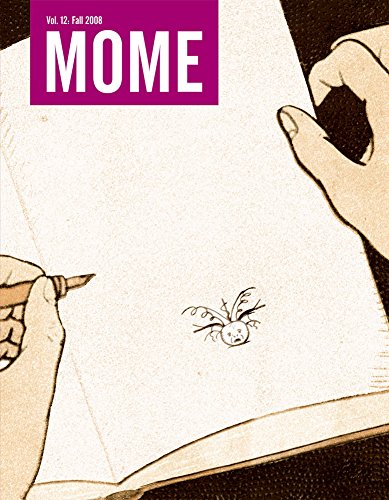 In "Mome" Vol. 12 2008,Al Columbia does the single art pages with "Invasion", all the pages show is what looks like an empty, suburban street with empty houses and front lawns except for the blue cats, the title "Invasion" makes me think these cats aren't of this world and maybe why no people are about. This is why Al is one of my favorite artists, some pieces leave more questions than answers. Sophie Crumb does portraits of an old west female outlaw named "Agnes Freeman". Oliver Schrawuwen does a pretty fucking funny comic called "Hair Types" where a buffoon in an art class, when seeing an illustration of different types of hair made by a fellow bearded art student sees that his hairstyle is listed as "docile hair", the bearded student says that he has "crazy hair" he is roasted by all the students with hilarious results. "Train" by Dash Shaw has a woman, who is a children's therapist, go on jog after a therapy session and witnesses a train wreck where the survivors stampede towards her in fear and she doesn't know what to do. Jon Vermilyea does a violent rip on children's breakfast food ads in the "The Breakfast Crew". David B. tells a tale of a man whose skin is made into a drum and whose spirit leads his men into battle through the beating of the drum, but love gets in the way in "The Drum Who Fell in Love". Sophie Crumb does a "Tijuana Bible" take, old school style, in "Loopy Liza in "Tsk Tsk".
So while I bought the issues for Columbia's work the rest of these issues surprised me and were just as interesting and good. Maybe down the line I might try to buy the whole run of "Mome". I didn't list the issues with Al Columbia covers because I am more interested in his comic strips and art, less so about his covers. The interviews are pretty interesting in these issues, and "Mome" sure is the word, get it out and get into it.
To get into it you can read every "Mome" in digital form right here: https://readcomiconline.li/Comic/Mome
To get physical copies which I recommend there is still cheap copies on Abesbooks, Amazon etc. out there so snap them up while you still can.