A friend sent me a trailer to a movie. I am very skeptical about "newer" movies, so friends and family knowing my weird tastes will send me stuff, I mostly stick with the older stuff and the more unusual and interesting, better, but it just can't be weird for weird's sake. Sometimes I'll watch a trailer and say "Fuck yeah! This proves good newer movies are out there." Then I watch the film and I am let down, either its too artsy fartsy, its way up its own ass, its boring and/or stupid. I am very picky when it comes to what movies I like and sadly more modern movies have more hoops to jump through for me, and the biggest hoop is "too much CGI". I do review more modern movies on this site just because I want to shine a light on films that show that the craft of film making isn't dead. And one of those movies is "After Blue, Dirty Paradise".
A French film directed by Bertrand Mandico who directed "Wild Boys" which I haven't seen. This was another movie whose trailer hit me right on the chin, it screamed "1980's neon Jodorowsky" and of course I didn't find out until later that "After Blue Dirty Paradise" wasn't gonna come out to the public until 2022 and that it was playing festivals only. I was pretty pissed off and "Nightstream" came to the rescue just like they had with "Mad God". Boy oh boy talk about a mind fuck, without giving too much away I wasn't too far of with my description, this has got "old school" written all over it with barely to no CGI at all, strange lighting, and "Legend" like Tangerine Dream music. Bertrand created his own self contained and world.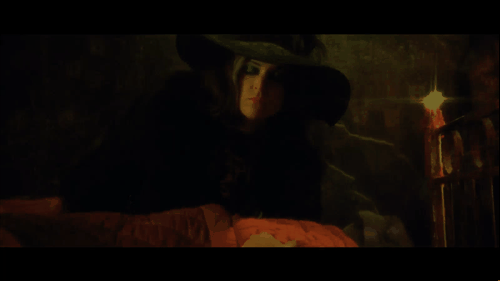 "After Blue Dirty Paradise" is a acid freaked, sci fi Western. At first this reminded me a lot of The Muse's music video "Knights of Cydonia". The movie takes place on the planet, After Blue, humans are escaping a destroyed earth and they find a planet that can sustain life. The atmosphere acts funny on humans, it makes them grow hair in places they normally don't (no not there you perv), on women its mainly the neck but in men it makes the hair grow inside and ends up killing all the males, so all births are achieved with insemination. After Blue is a planet populated by women only, there is a very limited use of technology since the populace of After Blue blame technology for the destruction of earth, mainly they still have guns and rifles to hunt and kill each other with.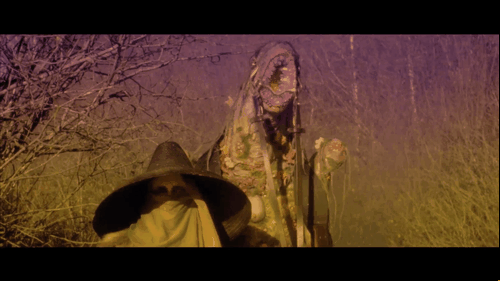 A teenage girl, played by the pixie, waifish Paula Luna whose nickname is "Toxic" and whose real name is Roxy, is on a beach playing with her friends when she encounters a woman buried up to her chin in sand. The other girls berate and make fun of her, even piss on her. The woman begs Toxic to let her go, Toxic digs her out and she comes out nude with one hairy hand and a rifle, she guns down the other girls. Toxic is hypnotized by the woman and aroused, then the woman runs away. What Toxic didn't know was that this woman was Kate Bush, a notorious criminal and murderer, the rest of the women in their village make Toxic and her hair dresser mother, Zora, played by Elina Lowensohn who is in the awesome "Let the Corpses Tan" go out to find and kill Kate Bush for the crime of Toxic digging her up. After this a series of strange and surreal events happen, the wandering women looking to kill a fugitive, is a very old Western movie theme. This movie visually and story wise keeps it interesting, this was another movie I wasn't disappointed in after seeing the trailer. Vinegar Syndrome in partnership with Altered Innocence has released "After Blue" on Blu Ray, link below (I did). At first I thought this movie was going to be preachy and I was hoping I wouldn't roll my eyes and I didn't. The message was put across with grace and smarts and if you want me to listen to you even though I might disagree with you, making your point in a interesting and creative way will open my ears. "After Blue Dirty Paradise" has different influences stamped all over it and but their put together so well it becomes its own thing. One other thing, ZZ Top's song "Planet of Woman" kept running through my head when I was watching this movie, they must've been looking into the future.