This movie is what happens when a person watches too many David Lynch, John Waters and 1950's sci fi horror movies and mixes them up in their head. This movie's logic is not of this world but that isn't a bad thing. A goth looking girl, Connie Sproutz, checks into a decrepit motel and the night clerk, played by James Diederichsen who also does the special effects in "Disembodied" looks like death warmed over and he also gives out creeper vibes, the only room he has left is in the basement near the boiler, the look of this boiler would give David Lynch a hard on. Her next door neighbor is a buxom prostitute named Trixie, who turns tricks, there is also a cleaning lady who smokes giant cigars and complains about cleaning the shit hole of a hotel.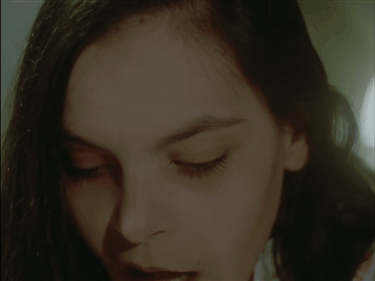 Connie keeps her brain in a jar and feeds it liquids, she also has a machine that keeps her dreams of outer space and alien landscapes from becoming a reality, all the while a man who looks like Colonel Sanders, Dr. Sigmund Sylvanus pursues her on behalf of a corporation. Connie used to work for the corporation and was taken over by a parasite alien while doing research and is on the run. Connie has a huge pimple that spews liquid that turns people into slime which she eats and then she gives birth to breathing vagina like things she stores in a dirty bathtub.
Trixie befriends Connie and the clerk tries to pick up both girls by asking them to watch old educational film reels and the girls always turn him down which makes him very frustrated. These characters are pretty much the main ones, except for two victims of Connie and a John Trixie slaps, it exists in its own strange world, there is stop motion and rocks that Connie collects that change into different items like balls, dolls etc. There is flowers that spew liquid in stop motion. I wasn't bored one minute and the fact that this movie is only one hour and seventeen minutes makes it ever better. The otherworldly quality of this film and the world it creates will keep you interested.