I randomly grab some type of newspaper on the toilet tank of my stoner buddy's bathroom and I open it to the comics section, ahhh looks like "Mutts", I'll get a little chuckle or I'll use this paper to wipe my butt with…wait a second! Is Mutts shooting up heroin? WTF is this? Oh…Its a comic called "Underworld" by Kaz and this paper I am reading is the local "alternative weekly".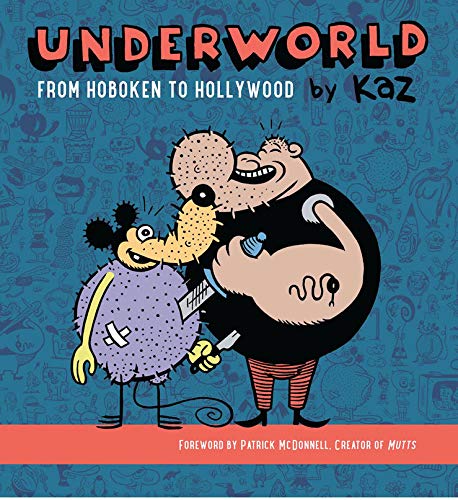 And the book has an introduction by the creator of "Mutts", Patrick McDonnell who is friends with Kaz in real life. "Underworld" is like looking at demented funhouse mirror images of Mutt and Jeff, Mickey Mouse, Popeye and Ernie Bushmiller's Nancy and Slugo.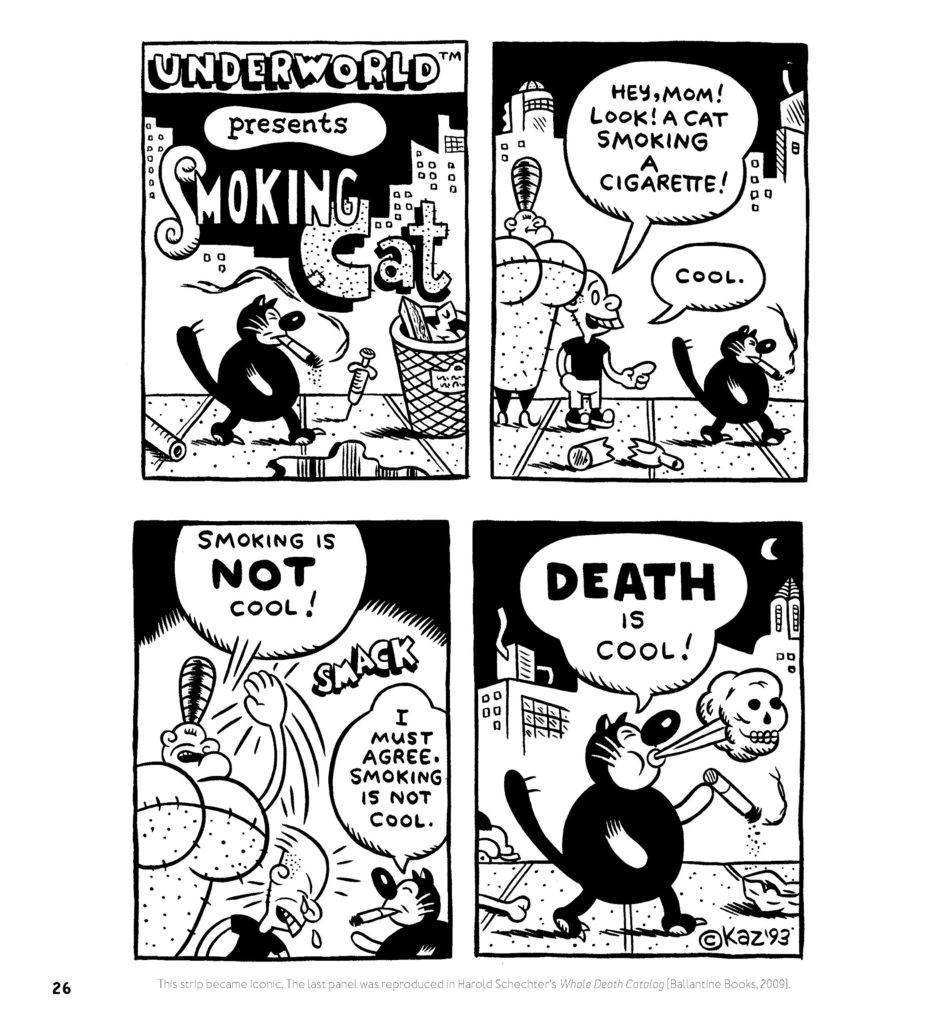 Kaz, full name Kazimieras Gediminas Prapuolenis, comes from a Lithuanian family, he said his family fought and yelled a lot, he said he got his imagination from his mother who encouraged his artistic ventures. He said his influences as a kid that followed him into adulthood was "The Wizard of Oz", "Peanuts", "Bugs Bunny", "Popeye", "Lil' Nancy", "Dick Tracy" and "Krazy Kat" comics, the Marx Brothers, W.C. Fields, and Mark Twain. If you do pick up this "Underworld from Hoboken to Hollywood" compilation, you will see these influences stamped all over, albeit spit out in a twisted way that is Kaz's own.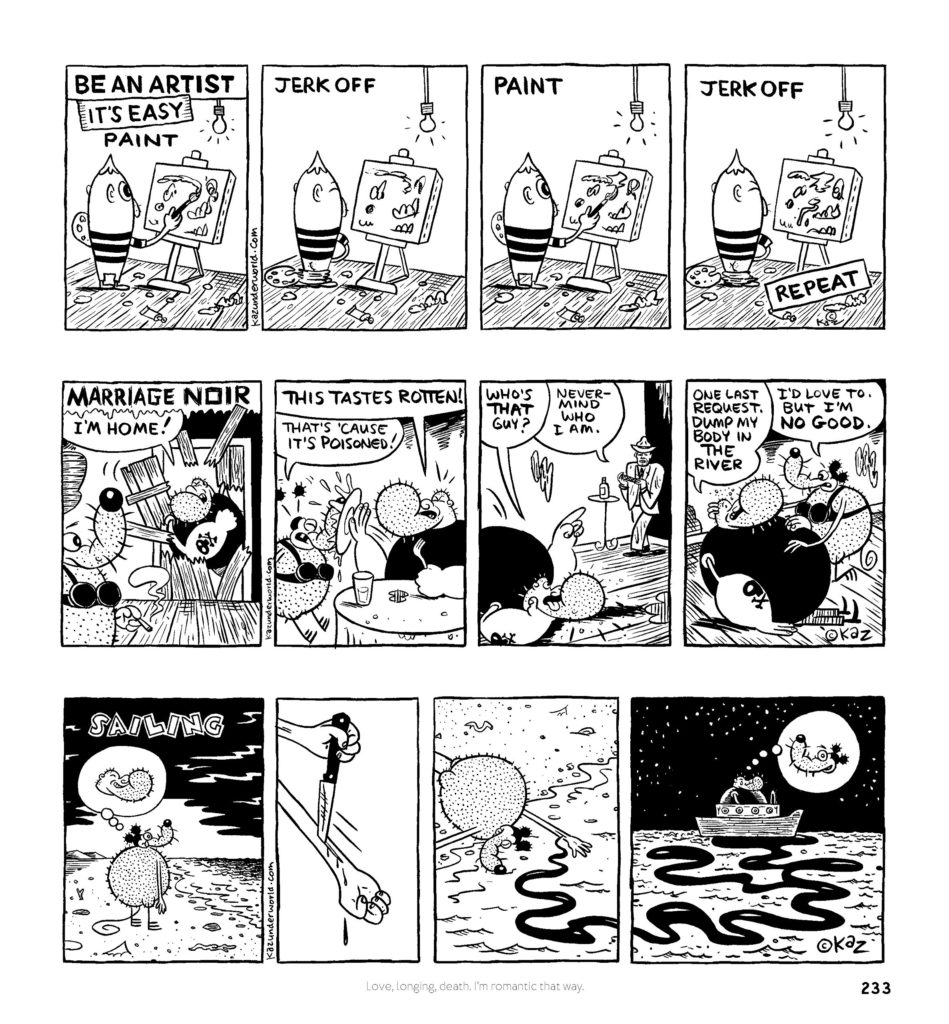 Kaz went to the School of Visual Arts in New York City, some of the instructors there were Art Spiegelman and Harvey Kurtzman, a lot of artists came out of there and went on to write for Spiegleman's "RAW", the large size underground comic magazine whose street level competition was Robert Crumb's "Weirdo" I did an article on "Weirdo" here http://www.noisepuncher.net/2021/05/19/your-such-a-weirdo-underground-comix-magazine-1981-1993/, Kaz also wrote for them and another one time SVA student who moved from New York to Seattle, Peter Bagge, became editor of "Weirdo".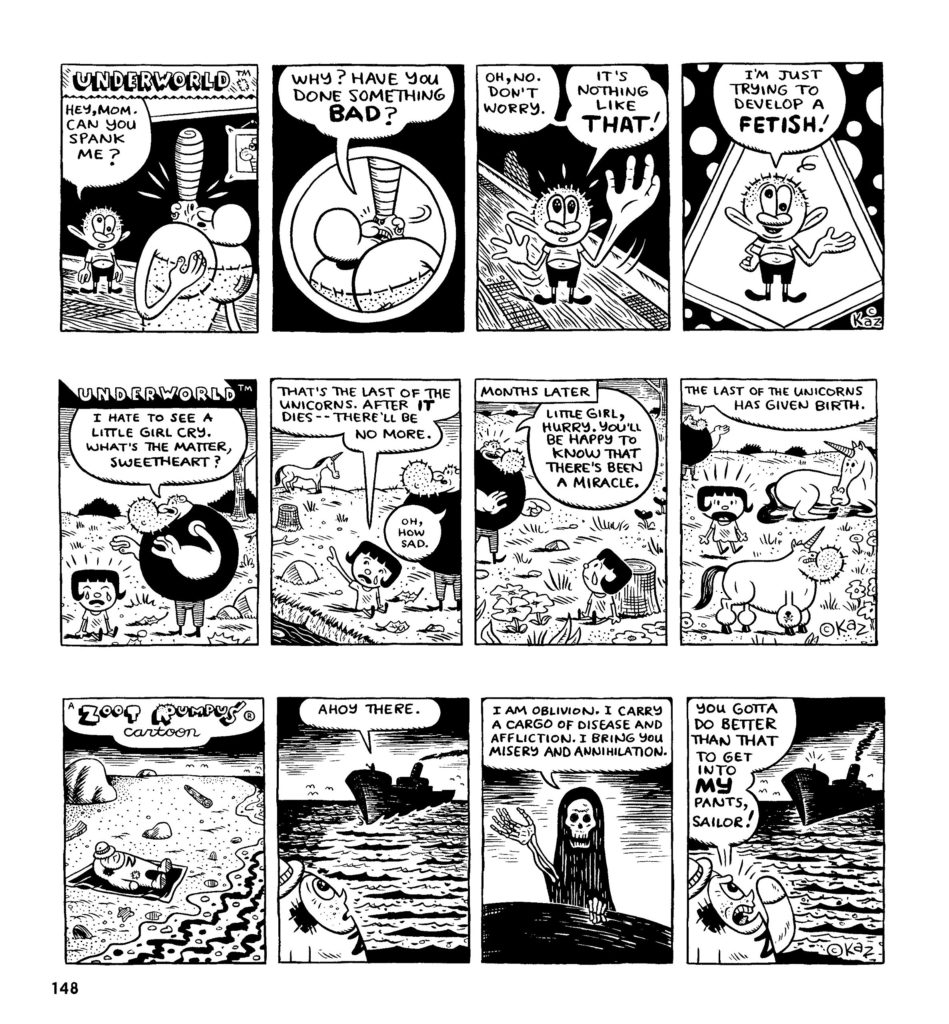 Kaz was doing illustration work thinking about quitting comics because they took way too long to complete until New York Press asked him if he would do a strip for their paper, so he developed "Underworld", he wanted to do a black humor strip full of addiction, murder, sex and despair, you know, all the finer things in life. He wanted it to be about two low rent hoods, one of them being a demented and drug addicted "Mickey Mouse" look alike. He took the name of the comic from the 1927 silent gangster movie by Josef Von Sternberg.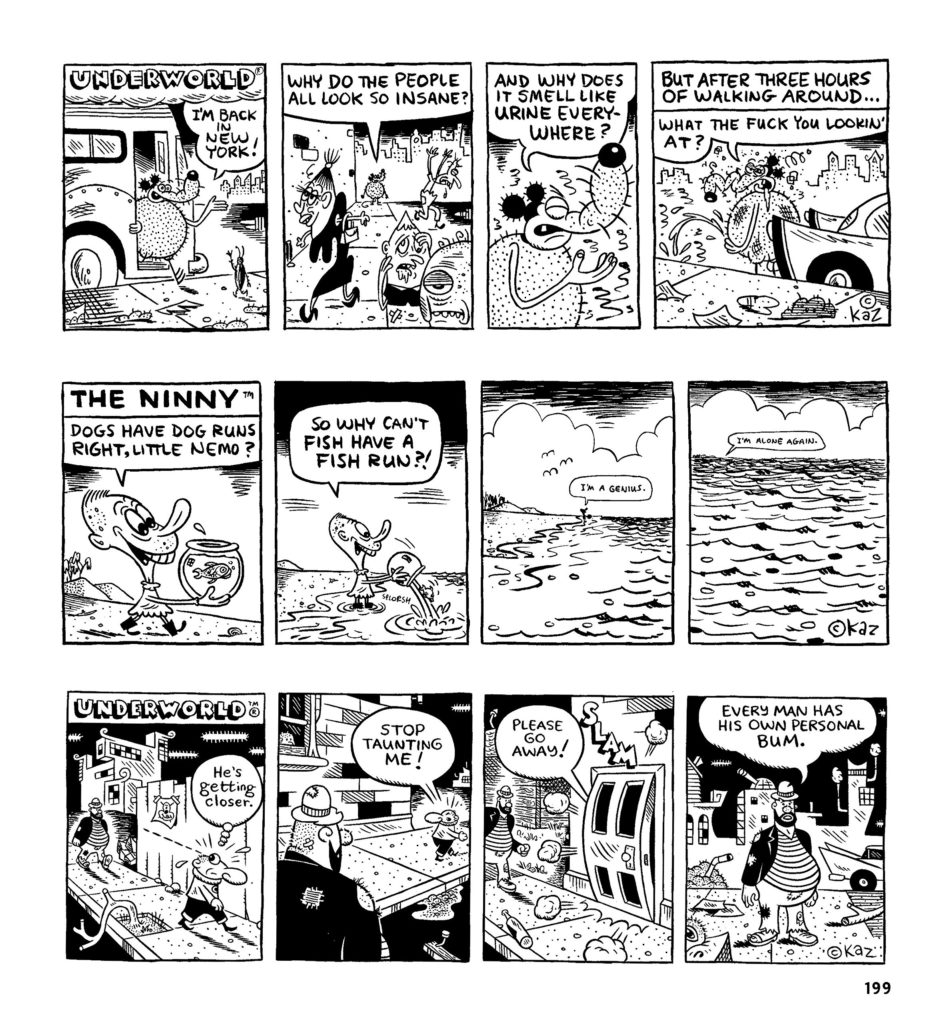 He pretty much said "I took the shapes and cartoon spare parts from comic history and rearranged them and subverted them. If it made me laugh I used it. I actually thought of "Underworld" as an underground comics parody of daily newspaper comics when I started." He said he gets ideas from listening to people on the street, or reimagining other comic strips he'd read and twisting the humor, he also filters his feelings that day through his comics.
Kaz says "Underworld" is his escape and he feels like a kid again when he works on it. The strip appears in various alternative weeklies across the country, well, the ones that still print at least. Kaz has gone onto work as a writer for "SpongeBob SquarePants" (you can see Kaz' absurdist humor in a lot of the episodes he wrote) and Disney's "Phineas and Ferb", Kaz actually got an Emmy nomination for an episode he wrote. "Underworld" is a strip that will either give you a chuckle or make you laugh so hard you shit your pants and you'll want to go back and read the strip and show it to your friends. Some ideas work and some don't, but one thing you'll get is something different, absurd and weird in Kaz's world than what you'd get in normal comic strips. There is some one off characters but the reoccurring ones are Snuff (a Popeye look alike) and Creep Rat (a twisted Mickey Mouse) two low rent crooks who are constantly getting into trouble, Nuzzle the Junkie always looking for a hit, Smoking Cat, Petit Mort, Newton the big man with the small head, Zoot Rumpus and Bunky the Weird Man Baby. Fantagraphics released this bad boy in hardcover it features the best of 23 years of the weekly comic, there is a few pages in color and its mostly in black and white. Another feature that pops up is "Kaz's Girls", a strip of different girls with, shall we say, "unique" qualities and features, "Kaz's Sketchbook" a one panel strip of drawings from, what else, his sketchbook and "Lists" where Nuzzle just lists a bunch of weird and random shit in each panel. "Underworld" is a must have for anybody who loves twisted, different and weird comics.
To get "Underworld from Hoboken to Hollywood" you have dig here: https://www.amazon.com/Book-Underworld-Kaz/dp/1606998846
Go visit Kaz's web site, he's got a lot of cool stuff on there as well as the newest weekly strips of "Underworld", he's got shirts, mugs etc. Get the fuck over there! https://kazunderworld.com/