"Outsider metal". When you see that word you think "weird", "crazy", or some "lone lunatic who thinks he/she is a genius and nobody else thinks or plays like them". At least that is what comes to my mind when I think of "Outsider Metal", none personifies that more than the South Carolina madman, Dwarr, or Duane Warr whose been churning out "one man band" metal since the early 1980's, most of it in the doom/psychedelic metal vein but you haven't heard doom metal like this, guitar solos flying out of nowhere, drums all over the place, vocals drifting in and out, sometimes vapor like, sometimes howling Ozzy like, Dwarr's music has to be heard to be believed. The story is no different on his 2003 release "Times of Terror".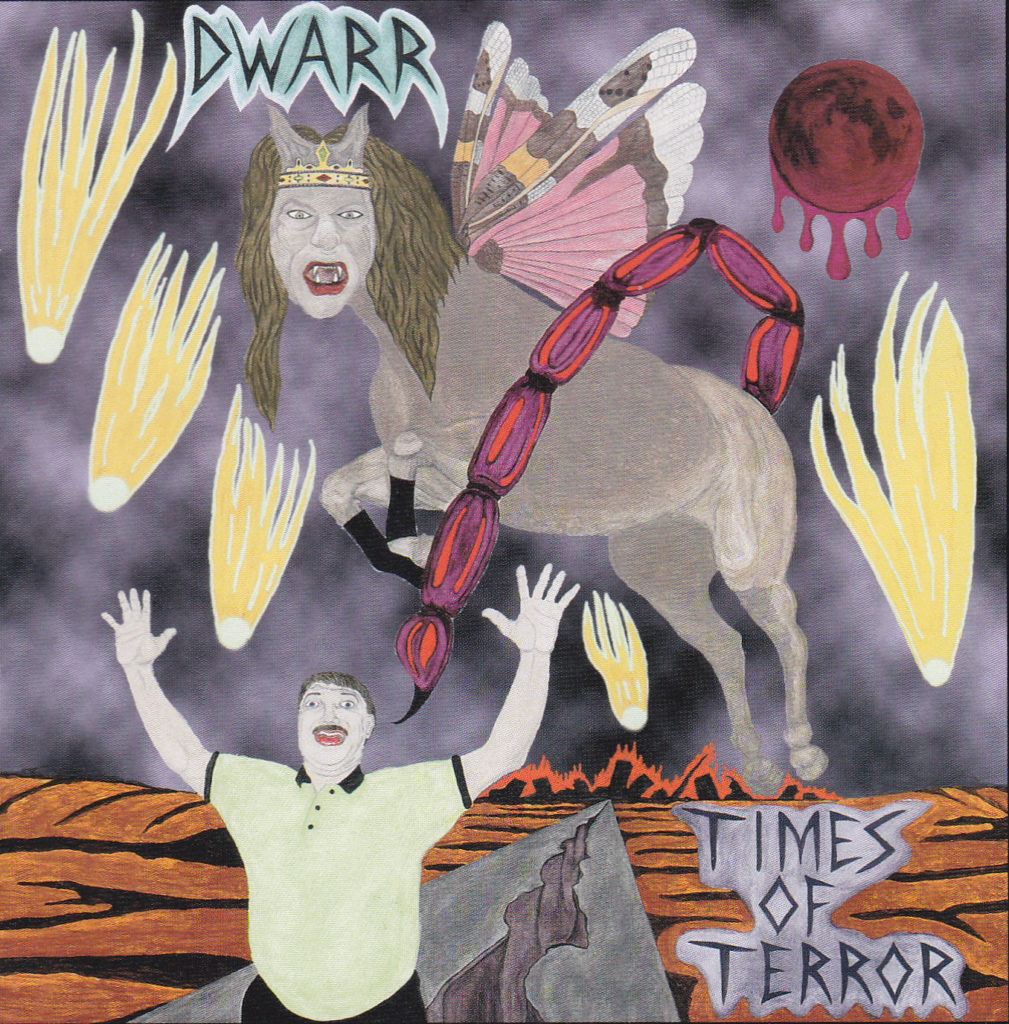 Not only does he play all the instruments, he painted the crazy cover, the Chimera from Revelation chasing a guy who looks like my uncle who likes to golf and bowl on the weekends. So if you aren't aware of Dwarr I should give a little background on this guy. His first couple of albums "Starting Over" (1985) and "Animals" (1986) are underground/outsider metal classics. The first album is more psychedelic metal, imagine a album full of songs that are slow, druggy, dreamy and bizarre. The story goes that he "borrowed" instruments from the local high school, horns included to do this album and he played all the instruments. "Animals" is straight up Sabbath worship played with Dwarr's signature style, guitar all over the place, syncopated rhythms and Ozzy vocal wailing, the title track was based upon a dream he had of man animal things attacking him. There was a rumor that he thought demons were speaking to him through his records that he burned them all. He said that that was false that he only burned some. For awhile he gave up music because he thought it was a devil's game, he came back to it later, way later as in 2000 with the album "Holy One". Which I will review sometime.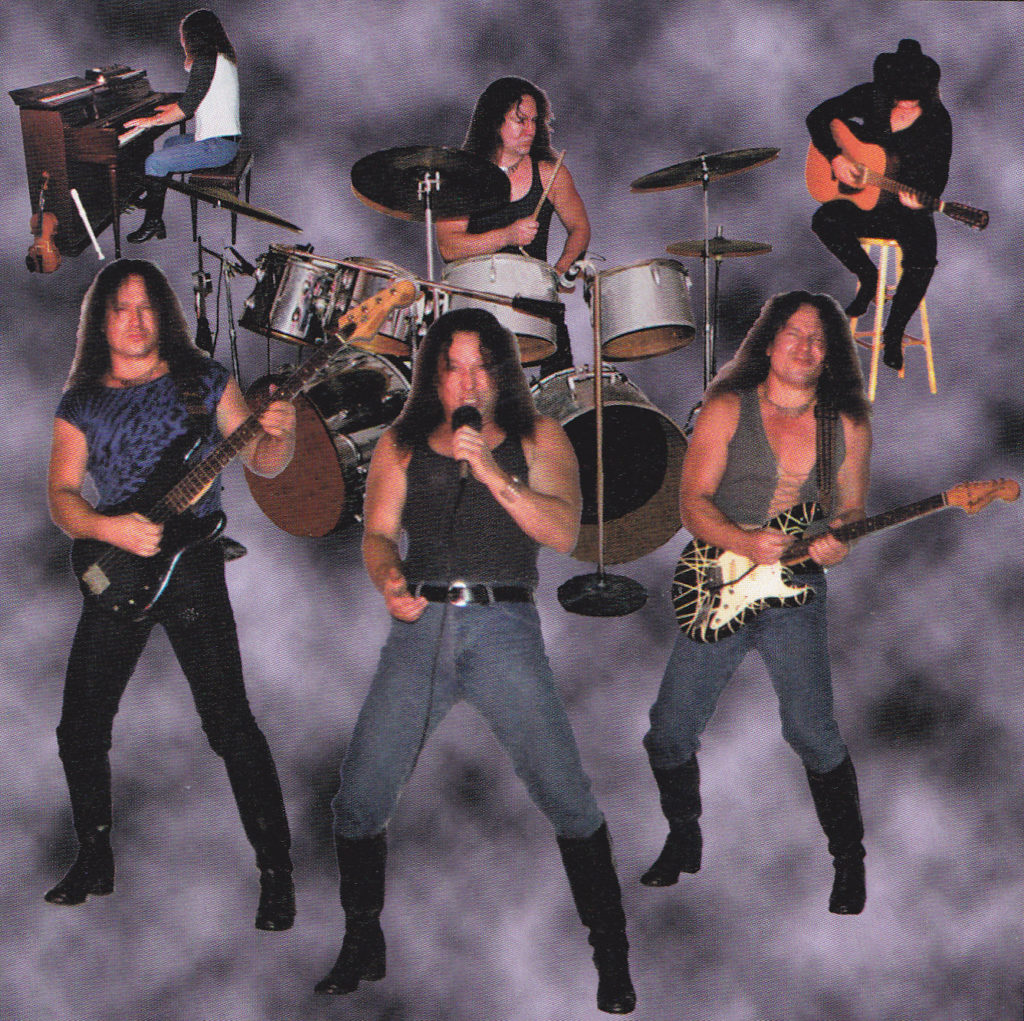 The white noise I am reviewing now is the next album after "Holy One" which is the "Times of Terror". I've got to warn you, the lyrics are religious and pro Christian but if that turns you off from the insane weirdness, vibe and timings in this album I don't know what to tell you, I'd say your really missing out. Dwarr has got his own vision of what music is and what religion is, this monster is something I can listen to on repeat. Its just so damn bizarre. While the Ozzy worship in the vocals is apparent, the playing and how the instruments interact with each other are all over the place. The first track "Times of Terror" is a 30 minute, doom metal epic with manipulated vocals divided into different parts "Trumpets" (has synthesized trumpets), "Times of Terror", "Traps and Pits", "Angry Waves", "Evil World", "Die Like Flies", "Days of Death", and "America" has lyrics like "America, land of the free, what have you done with your father's faith" with a strange whiny synth line between the crazy out of control solos, thick bass and drums, the songs "Harmony" and "Tears You Cry" feature a flute. Dwarr doesn't give a fuck, he plays music the way he likes.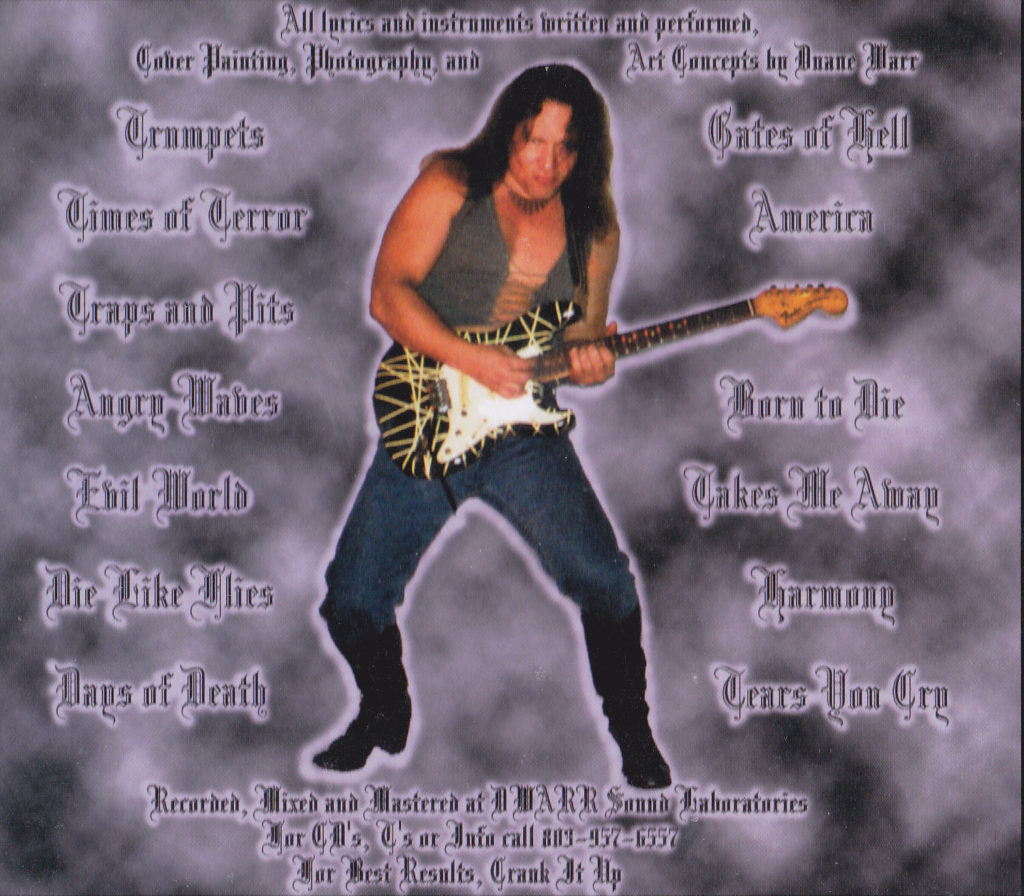 While I had the first two "classic" albums I had a hell of a time finding "Holy One" and "Times of Terror" so I searched for his name on google. I saw a real estate agent by the name of Duane Warr in South Carolina, I wondered if this was the same guy. I shrugged and e mailed his AOL account (didn't even know AOL existed anymore). I got a response almost instantly, yep, it was THE Duane Warr, he was selling houses and he said that his wife was setting up a web site that would sell shirts, CD's and bandanna's and that it should be ready soon and to be patient with it. He was a completely cool dude, I would check to see if his web site was up once in awhile for the longest time it wasn't, I figured maybe it would never be up. Then I got a e mail from Duane who told me the site was up I went instantly over there and got a shirt, and the two CD's I'd been looking for. Duanne e mailed me again and told me I forgot to choose the T shirt size. I already could tell this guy was fucking cool. So yeah, if you like your music weird, insane, different, crazy etc. Dwarr has got it all in spades, and he does have a message, that religious message makes his music even more weird and unique. Do yourself a favor and go buy something from him, he might record another album (cross fingers): https://dwarr.com/
To listen preview the album (buy the fucking thing) go to: https://www.bitchute.com/video/aDO7AvDFPYv8/