Open this comic compilation and the smell of cheap gin, cigarettes and even cheaper perfume wafts right off the page. You know exactly where you are: "The Manly World of Lloyd Llewellyn". Welcome to a world where the 1950's to mid 1960's pop culture is mixed together with no blurring lines, its a place where space travel and alien visitation is normal. A four eyed detective, Lloyd Llewellyn, hangs out in a bar "The Big White Dot" with his diminutive side kick, Ernie. Together they chase alien dames, beat up Ed Big Daddy Roth monster teenagers from Jupiter, battle man eating Beatniks etc. This was Daniel Clowes first foray into doing his own comic book.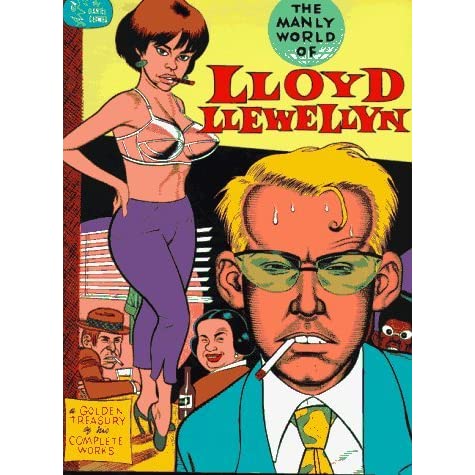 Daniel says all up until the point of Lloyd Llewellyn he had only done 25 pages of actual comics and single illustrations until he sent an Lloyd Llewellyn page in color to Fantagraphics, Fantagraphics gave him his own comic, except it was in black and white, the cover and back being colored which fits the whole aesthetic of the magazine and the time period its paying homage to. Its like reading a black and white sci fi noir film.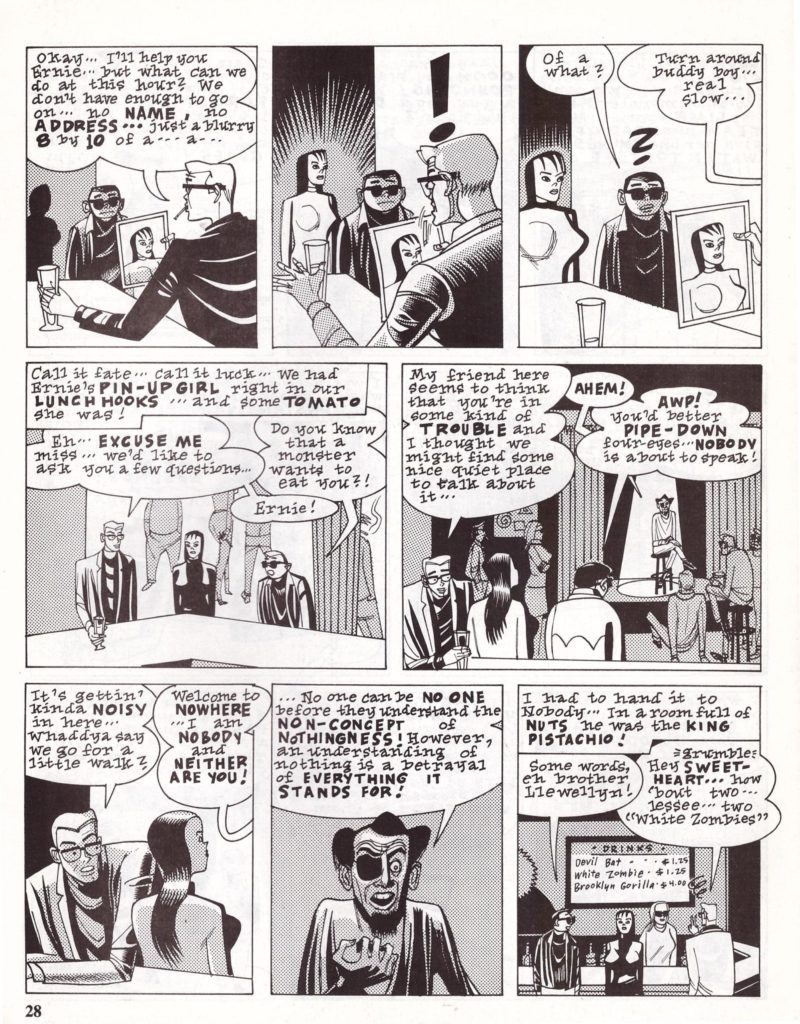 Dan says he isn't particularly proud of his work in "The Manly World of Lloyd Llewellyn" it was one of his first projects and he says he was working himself up to "Triple A Baseball". He said writing Lloyd Llewellyn was a way of exorcising pop culture demons and trivia he'd gathered, pop culture from 1948-1966. He thought there was a market for comics that referenced "Dragnet" and Mickey Spillane novels, he said the target audience turned out to be ex hippies who thought it was a satire of the pre 1967 culture they hated and younger kids who were into "Hep Cat" culture and hated anything post 1966.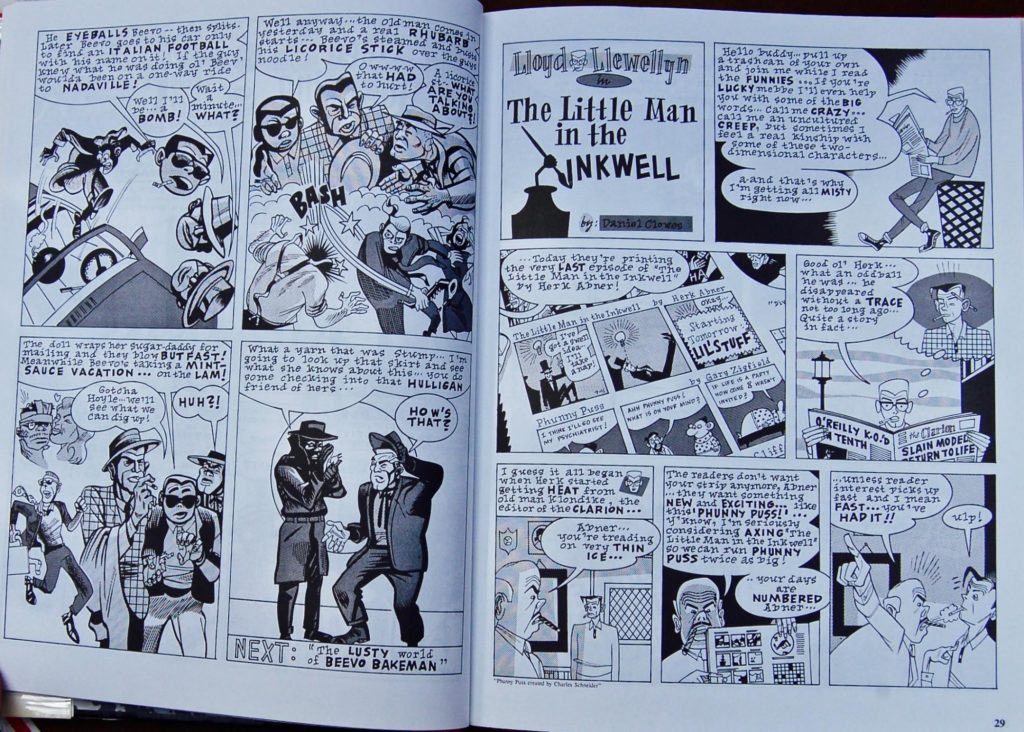 The series lasted from 1985 to 1994, in it he pays homage to various pop culture relics from the 1950-1966 period including Red Sovine and Burl Ives lyrics, DC comics of the early 1960's, characters that are similar to Lee Hazlewood, Esquerita, Alfred E. Newman, Sylvester P. Smythe, Ed "Big Daddy" Roth monsters, 1950's "Super Duck" and "Plastic Man", movies like "Detour", "Devil Thumbs A Ride", "Touch of Evil", "Brainac", "Thrill Killers", "Homicidal", "Straight Jacket" and "Psycho" and TV shows like "Dragnet". Despite what Clowes says (and his later stuff is better) I wasn't bored one minute with this thing. I loved this world, I've read worse and won't review those on here.
In this book is the foreword and afterward to the first version of this collection called simply "#$@&! Parts one and two". This book is a must for Daniel Clowes fans, problem is this book is out of print and rare. While "Fantagraphics" is one of my favorite companies out there, their refusal to republish past stuff, even in limited quantities makes me insanely mad. The prices are utterly fucking ridiculous, I was lucky to get this copy for 150 bucks from Australia. Utterly ridiculous. From "Fantagraphics" point of view they probably wonder why they should reprint something barely anybody knows or cares about but the problem is they do it all the time. I wish they'd give Lloyd Llewellyn the same treatment as Dan's other work like "Velvet Glove Cast In Iron" and "Eight Ball". There is stuff released that is selling on ebay and various sites for insane amounts of money I would never pay, no matter how much I want it. Until I started searching I didn't think I'd ever read "The Manly World of Lloyd Llewellyn" and I despaired of ever seeing this visual white noise. There is a lot out there I want to see but never will because of insane fucking collectors and sellers who drive the price of something way the fuck up, sure scarcity causes the costs to sky rocket but c'mon, some of these sellers are just ripping desperate schmucks off. (RANT OVER. LOL!)
"The Manly World of Lloyd Llewellyn" was released in a limited print run of 2000 copies, wish they'd do another so all of you out there could experience Clowes' strange noir, sci fi, retro world. If you want a copy I say do a search on your favorite internet search engine, the physical copies like I have are gonna straight up rape your wallet raw, and on amazon right now the cheapest available copy is 727 bucks! EEEEK!!! When I searched I could find no download links, if you want to search for a copy good luck to you and good luck hunting!