Watching " The Beast Pageant" I was confused, not because of the crazy imagery or semi non-linear story line, I was confused because this is that type of "tightrope walk" movie, on one side of the thin rope is pretentious, up its ass horse shit and on the other side is spell binding brilliance, this movie didn't fall onto either side and made it across alright. "The Beast Pageant" was directed by Albert Birney and John Moses and its a fucking trip to be sure.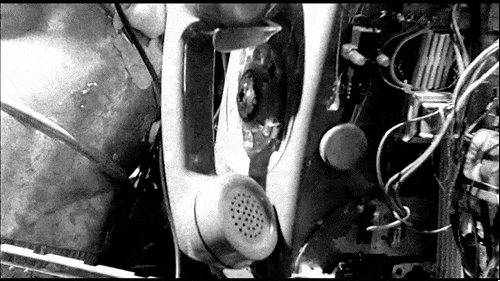 There is two parts to this film, and I know what "The Beast Pageant" is going for in the first part, Abraham, played by co director/writer John Moses, lives in a German Expressionist style apartment with various machines hooked throughout his apartment, one calls him and sings to him when he picks up the phone and one is a TV apparatus that has a bearded man in it that shows Abraham weird commercials and asks him to talk through the speaker horn if he wants the item advertised in the commercial, Abraham goes to a dead end job in a factory where he pushes slots that spit out synthetic fish. The whole first part smacks heavily of "Eraserhead", the whole movie is filmed in black and white and has a dream like logic to it. The visuals in this movie are stunning, weird and unusual. The whole "Eraserhead" thing also comes from the dirty, industrial background. Abraham starts to grow a tentacle out of his rib and goes to a doctor to have it removed, the removal isn't successful. The first part of the film is so blatant in its message, normally when somebody tries to hit me directly on the head with something it pisses me off and turns me off but the hammering is done in an intelligent way, the first part seems to be lampooning consumerism and a 9 to 5 existence. Not to mention how machines will try to give comfort and love but its artificial and plastic.
The second half, Abraham tears out of his house into the countryside, a stark contrast, the tentacle becomes a miniature singing cowboy copy of him complete with acoustic guitar. Among the things he encounters are a small house with a nude couple in it, bush people, water people, dirt people, animal people, a motel in the middle of the forest with a couple that needs a baby sitter and the list goes on and on. The second half seems to say that nature is better than an urban setting and the second half has musical numbers of the indie folk pop type. More weird stuff happens and again I don't want to spoil too much you'll have to go watch it yourself.
The movie got its money in part from a Kickstarter campaign and took three years to make. Sure some of this movie made me roll my eyes, some of it is art house pretentious but overall I liked its crazy energy and wasn't bored. So I say join the "The Beast Pageant". Albert Birney's new movie, "Strawberry Mansion", screened at Fantasia Film Festival, its about a "dream auditor" who gets caught in an old lady's dream world, hope its as interesting as "The Beast Pageant".
Become a "Beast" here: https://vimeo.com/groups/awardeo/videos/108922277