I never thought I'd see a movie shot in Ethiopia by a Spanish director, set somewhere in mid 21st century in a virtual world, the only thing is this movie was meant to look like it was shot in the mid 1980's and is a prediction of what 2035 is gonna look like, so there is retro virtual reality machines and goggles, dial rotary phones, 1970's furniture etc. In a word this movie is a mind fuck, you'll want a cigarette after you watch this movie.
Where to start with a movie this insane? Well two CIA agents DT Gagano, played by a dwarf Ethiopian actor Daniel Tadesse and Palmer Eldritch played by Spanish actor Augustin Mateo, both contrast to each other in looks and personality, they are working in "Beta Ethiopia" which is the Ethiopia of the 2030's as imagined by a sci fi film maker in the 1980's. The Cold War is still on and the Soviet Union is trying to put a virus in the computer system called, what else? "Soviet Russia". In this bizarre virtual reality everything is in stop motion and everybody wears the masks of famous actors, comedians and politicians. DT's wife is a hot BBW blonde named Malin played by Gerda-Annette Allikas and she looks forward to him retiring as a secret agent so she can open a Kick Boxing studio. Your reading this saying WTF?! I did when I start watching this.
DT wants to start a pizza restaurant by the ocean but these dreams get derailed when he gets stuck in the virtual world and he needs to find a way to get out. In this stew you get a satire of 1960's spy movies, including the incidental music, 1970's and 1980's action and kung fu films and B level sci fi. This movie is like a cross between 1980's James Bond flicks and Alejandro Jodorowsky's art movies not to mention the audio is badly synced to the lips on purpose. Seriously, this god damn movie is so insane it can't be classified.
"Jesus Shows You the Way to the Highway" is also philosophical, it doesn't look like it on the surface but there is so many layers in this movie you'll question whats reality, whats a dream, whats a fabricated reality etc. This movie is hilarious, some of the over the top absurd stuff will have you laughing until you are out of breath especially when one of the characters is watching TV and on it there is a man dressed like 1960's Adam West Batman licking the feet of a man in a swimsuit, somebody yells at him "Stop watching that communist propaganda and get your ass over here!" Not only that, the president of Beta Ethiopia is dressed as 1960's Batman and he wants to kick all drug dealers out of Beta Ethiopia. And believe it or not it gets crazier.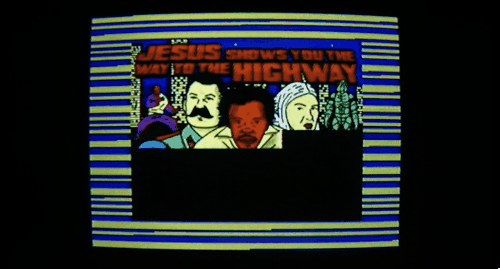 Most of the old computer technology that is seen in the movie was borrowed from the Estonian Computer Museum. "Jesus Shows You the Way to the Highway" is a movie that hit me in the sweet spot, I literally stumbled across this movie by accident while searching for the movie "Highway to Hell" which I am gonna review next, I saw the poster and it looked like a grind house movie I'd never seen, and at first seeing the date it was made I was very skeptical, I dove headfirst into this roiling and boiling sea and I got the shit thrashed out of me. This is one newer movie I will repeat view and I am sure there is stuff I missed. There is so many Easter Eggs and little tid bits, the name alone should draw you in. I am sure a lot of religious folks searching for some religious movie about Jesus were confused when they watched this movie for the first time like I was, except in a different way, they'll wonder what a fully clothed black midget is doing in a shower with a naked, statuesque, BBW blonde goddess and what any of this has to do with Jesus. The movie was partly funded by people on Kickstarter which is cool, Llanso's first movie was the awesome post apocalyptic film "Crumbs" also starring the diminutive Daniel Tadesse, another one I will review later and you should watch and that one was made on a show string budget in Ethiopia and its just as weird. "Jesus Shows You the Way to the Highway" is one highway you don't want to drive by.