Heading into Halloween it has been a tradition of mine to watch nothing but horror movies for the month of October, that includes every sub genre of horror, so keeping that in mind I decided to review a newer movie that needs more attention by "newer" I mean 2009. And that movie would be the giallo film "Amer" by French husband wife team Helene Cattet and Bruno Forzani who did the equally retro western/heist/polzieschi film "Let the Corpses Tan" (My review is here: http://www.noisepuncher.net/2021/02/12/go-ahead-let-the-corpses-tan-2017/).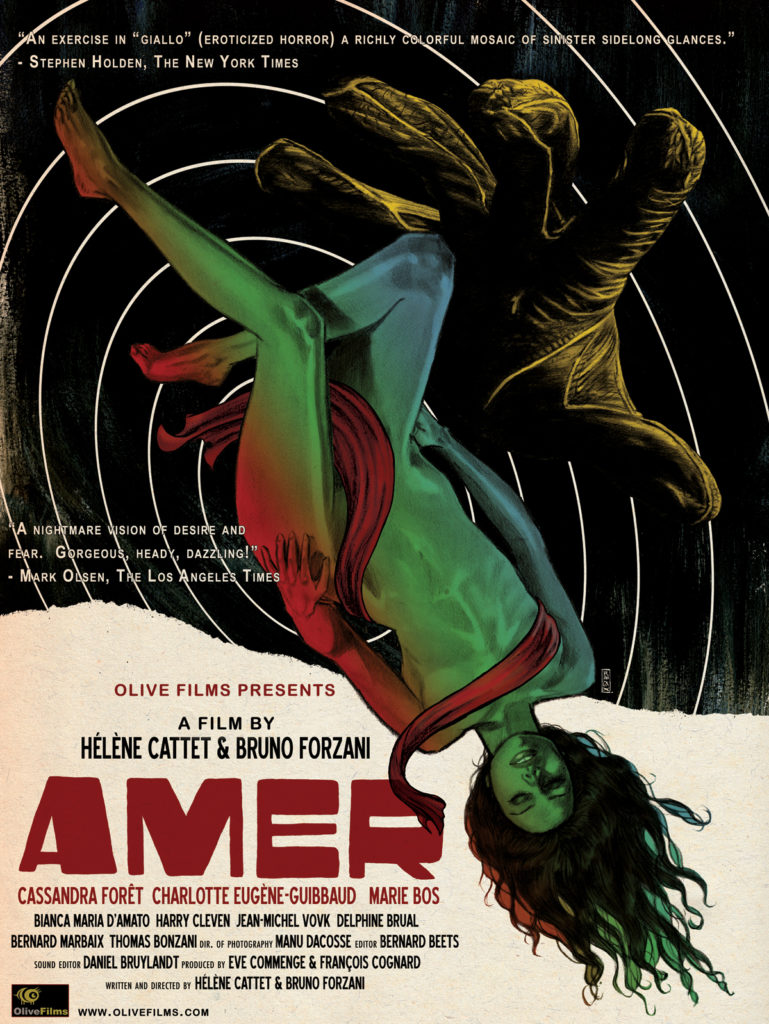 The film is in three parts, the first part is about the main character, Ana, as a child played by Cassandra Forêt . Now the first part is the strangest part of all, the girl lives with her parents who seem on edge, her grandma who seems to be mentally unstable and dress in black and her dead grandfather who they have laid out on a bed. This first part seems to meld both reality and the girl's over imagined perception of it. Little girl Ana, seems frightened by all the adults in her life, including her dead grandfather. Now this part is pure Bava/Argento worship with strange colors and leather clad masked killer with a razor who pursues her after she snatches some jewelry from the dead hands of her grandfather. When she sees her father and mother having sex after being scared at her black funeral clad grandmother spying on her, she gets traumatized and her psyche seems to literally shatter.
The second part of "Amer" goes into Ana's teenage years (played by Charlotte Eugène Guibeaud), where she has a sexual awakening which she is both turned on by and repulsed by. This is illustrated when her and her mother walk to the butcher shop, the butcher shop owner's son tries to kiss her and she turns away. She walks toward what looks like a biker gang whose lustful gaze turns to her, there is barely any dialogue in this scene, just the sound of the rustling of her mini skirt and the crinkling of their leather. She seems to be turned on by the fact that these guys could jump her at any minute on the one hand but on the other she has complete power over them. Her mother finds her and slaps her for the flirting.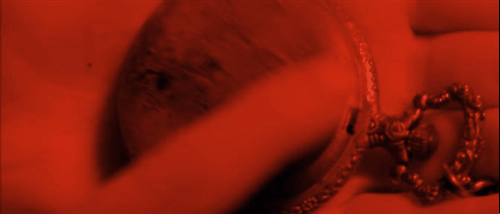 The third part sees Ana (played by Marie Bos) as a grown up is on a train closely surrounded by men and she seems to be aroused by it. She gets picked up in a taxi cab by a man (played by Harry Cleven) dressed in leather, the man is gazing at her in the mirror the whole time and she is aware of it. At times she begs him to open the window because its hot in the car and he pretends to not listen a couple times as if he trying to show her he is in charge. He ends up dropping her off at her old house which is decrepit and rundown, she goes inspecting and she keeps seeing a dark figure out of the corner of her eyes. At one point when she goes to take a bath, a man in leather tries to drown her but she pulls the plug. As she gets out the man who drove the taxi cab seems to be stalking the house, I am not gonna give away anymore but the end is a mind fuck. The "giallo" genre has certain tropes, the masked killer with the razor, a psychic/occult occurrence, crimson red blood and strange bright colors, this movie plays with all those tropes and makes them their own. This movie is stylized but it holds your attention and keeps you guessing. Another "modern" movie done right. They'd do another giallo film "The Strange Colour of Your Body's Tears"(Drink the tears here): http://www.noisepuncher.net/2021/10/30/let-me-taste-the-strange-colour-of-your-bodys-tears-2013/.
So where to catch "Amer"? Apple TV has got it: https://tv.apple.com/us/movie/amer/umc.cmc.1sn38q57xhjw6zyvijqpt06cn?action=play
But if you look in the pirate's stolen booty you can find it too, just be careful to use a VPN so you don't walk the plank.
Your welcome.