Short films shot in black and white were a dime a dozen in the 1990's, most low budget directors used the monochrome method to impart artiness, seriousness and mask whatever defects a low budget production spawned, most were pretentious shit from hipster assholes who had their heads wedged firmly in their asses. While the current entry "That Little Monster" was shot in black and white, tried to be arty, and tried to mask its defects with monochrome, serious it wasn't and it is glorious to behold.
So the plot of "That Little Monster" isn't really that complicated, it takes place in a retro future imagined by 1950's sci fi writers, it takes place on a different planet, in a house with furniture, a TV set and Hi Fi record player that wouldn't look too far out of place in a 1950's swinging bachelor pad with a few tweaks here and there to make it look unearthly, add strange ornaments, sculptures and plants to make it look even more unearthly. Forrest J. Ackerman, founder of the first zine and movie monster magazine, "Monsters of Filmland" does the intro to the movie. In comes female earthling Jamie (Melissa Baum) looking for a baby sitting job to make a little more money on this different planet, another human Twelvetrees (played by Reggie Bannister of "Phantasm" fame) interviews her for the baby sitting job, first by trying to pitch her a alien soda in what looks like retro commercial. She gets hired, she is to watch the infant spawn of the Willock couple who are going to a costume party dressed like humans, the male Willock breaks into a weird folk song out of nowhere, they allude to their being other human baby sitters that didn't work out. She is given instructions on when to feed the baby and that she can have as much microwave popcorn as she wants, the aliens on this planet think microwave popcorn is the best invention they were given by us humans. Twelvetrees warns her to be careful around the alien infant, of course she ignores his advice and the alien baby starts running wild and things and people get hurt and Bob Hope (yes that one) makes a surprise cameo.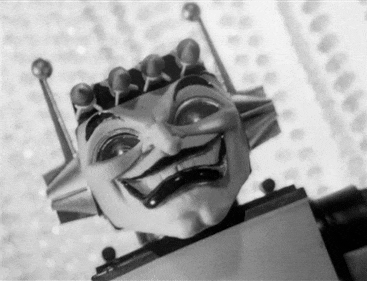 For a low budget short film, the effects are pretty darn good, the alien baby gave me a chuckle and made me happy every time it popped up on the screen, I imagine this the way the baby in David Lynch's "Eraserhead" would've looked like if it had lived a couple of more months, the gore effects and baby toys were well done, they made the baby toys look slightly familiar but otherworldly. This one really isn't scary, its ridiculous, but ridiculous in a non pretentious and fun way, and to boot it is short, "That Little Monster" is one I will go back to and it makes it easy that its fifty minutes long and interesting, if it would've went on for an hour and half I would've been looking at my room wondering what I had to organize. "That Little Monster" came out of a time that was experiencing a "retro revival" every hipster was digging through thrift stores in the 1990's looking for 1950's-1960's lounge lizard threads and digging through heaps of vinyl in used record stores trying to find the lost 45 or 78 of some obscure Swing Band. I can tell the director of this short, Paul Bunnell was one of those types of people.
Paul shot "That Little Monster" over three years, it was originally supposed to be a segment in the awesome "Monsters" TV show, the connection to "Monsters", according to Paul, "died" so he decided to develop it himself into a artsy kind of film to get his work seen. In the interview I saw, Paul looks like your typical 1990's retro hipster, he wears black frame Buddy Holly glasses, his hair is slicked back with Brylcreem, he wears a plaid suit jack and wide collar shirt whose collar flaps come over the suit jacket collar, he also drives a 1960 Thunderbird with Bob Hope spelled out on his license plate and he does Don Knotts impersonations, this is the kind of guy who would direct a movie like this. Paul said it took thirty thousand dollars to make and some help from some producers. Paul says he is more of a visual stylist and tells his story more through visuals than the actual story. This short is packed with eye popping visuals, Paul directed the segment "The Visitant" in the "Strange Tales" (http://www.noisepuncher.net/2021/09/20/want-to-watch-some-strange-tales-1986/)anthology I reviewed here awhile ago.
So are you confused? By my review or where to watch it? Or both? Well I can solve the "where to watch it" part, you can go right here: https://www.bitchute.com/video/QKhxh5RggDEC/
If you want to actually get "That Little Monster", and I mean really get it go here: https://www.amazon.com/That-Little-Monster-Forrest-Ackerman/dp/B00006BSLW/ref=sr_1_1?crid=2WFR4BH0CXWB5&keywords=That+Little+Monster+Paul+Bunnell&qid=1655488192&s=movies-tv&sprefix=that+little+monster+paul+bunnell%2Cmovies-tv%2C135&sr=1-1
Time to feed "That Little Monster"!