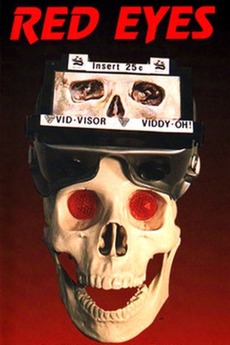 Ahhh video stores…anybody remember those? Well in "Red Eyes" there is one and it is called "Galaxy Video", back when mom and pop video rental stores proliferated though out America, gimmicks were used to keep the customer coming in, i.e. special devices, giveaways, food, people dressed as characters from various films etc. "Red Eyes" plays on this and also uses it as a wraparound (excuse) to introduce sub par horror anthology segments, a big man in a trench coat with a mustache and mullet rents a "Vid-Visor" from Galaxy Video, a virtual reality type contraption that you have to put quarters into to make it work and show you bad short films, now first off, why the fuck would you want to put quarters into something you already paid to rent in the first place? I mean you paid already, this fucking "Vid-Visor" would have me walking away calling it out for what it was, a scam to siphon quarters off of you. As you can see "Red Eyes" from the beginning makes no sense. Mullet guy when he puts on the Vid-Visor, sees a screen that looks like the type of IBM computer graphics I used in junior high flashing "Insert Coin" he rummages through his pockets and finds some change. The grim reaper appears with flashing red eyes, I am sure they picked up this grim reaper at some cheap Halloween chain store, an early 1990's "Spirit" store. He calls himself Charon, the same name of the boat man in Greek mythology and introduces the first horror short.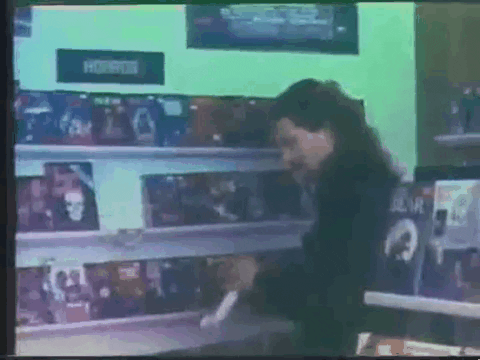 The shorts in this anthology aren't very good, that being said they are at least entertaining and the movie isn't boring, the first short has a grandmother telling her grandson while fishing on a dock about a World War Two vet that got antsy not being in a battle and goes into the lake their fishing at to see if the a downed Japanese POW plane is being operated as a base by the enemy, he goes into the lake and disappears, soon a really stereotyped Japanese soldier zombie emerges from the lake and attacks the grandson and grandma, the World War Two vet emerges and blows up the stereotyped Japanese soldier with a grenade and gives the kid his dog tags. After this short ends the mullet guy has no more change so he lures a priest to his door collecting money for the poor, and slams his hand so hard in the door it pops off spewing blood. Wow. So a dumb horror short viewed in a cheap visor makes you want to kill. OK buddy. The next short is about almost all the people in the world getting into their cars and driving, a father gets his wife and daughter in their car and they drive aimlessly, he tells them he heard about a family whose car stalled and the people just died. Soon they come across their deceased son, they stop and let him in the car and they keep driving all happy. Uh without a job, driving aimlessly around with no income, you aren't gonna last too long, it looked like it was trying to take a shot at something Ray Bradbury like, but it misses the mark. The company who makes "Vid-Visor", a Japanese company somehow finds out there is a malfunction in one of their units and sends an android killer to take out mullet guy. Next mullet guy murders a pizza boy to steal his change and another sub par short pops up about a theater that swallows lonely people represented by a clown, it is done documentary style with interviews with police, journalists and the theater owners. The last and best short in "Red Eyes" is about a guy who has long hair, a Motorhead T shirt, drives a muscle car and is a jerk who drinks booze in a bag while harassing his girlfriend. The music in this short is a mix of Z grade hair and thrash metal which makes this short the best out of the whole rotten bunch. Long hair guy drunkenly hits a girl on roller skates while she is carrying her doll. He puts the girl's body in the woods and takes the doll home, the doll comes to stop motion life and makes him drink rat poison and cuts his throat. His girlfriend wanting to make up comes in in black see through lingerie and screams when she sees him dead.
Android assassin locates mullet guy at a bowling alley where all the participants are dead and finds mullet guy sitting down with a toy walking skull, the assassin goes to shoot him, sees a bowling pin and uses that to take his head off which goes down the alley, knocks all the pins down and reemerges in the ball machine thing. The end. SIGH… HA! HA! Yes, dumb, cheap, nonsensical, inept etc. "Red Eyes" will give you red eyes because you'll be laughing so hard you'll be crying.