Ergot is a fungus that infects rye and other related plants, it is also closely related to the chemical composition of LSD and was prevalent during the middle ages, some speculate widespread Ergot poison helped contribute to the witch hunting hysteria of the time. Its apt that a comic compilation like this one has "Ergot" in its title, I think the editor, Sammy Harkham, made that title for his compilation of art and underground comics on purpose, who "Kramer" is besides the guy in "Seinfeld" I can't figure out. "Kramers Ergot" is worth every wallet emptying penny, once these go out of print the price of used physical copies shoots into the stratosphere and I hate to say it digital masturbators, "Kramers Ergot" is meant to be enjoyed holding the actual thing and reading it, the experience isn't the same as reading it on "Comixology". "Kramers Ergot" was started by Sammy Harkham as a zine in 2000 under his own Avodah Books, issues 4 and 5 were published by Gingko Press, the issues 1-4 are very rare and way way WAY out of my price range, there is some prices I am not willing to pay, I have 5 to 10, out of those 5 is the weakest of the bunch but its still got good material, stand outs in 5 are M.L.E. (Mutant life Expectancy) by the great Matt Brinkman with Neil Burke coloring, the always talented Chris Ware with "My Life", the always cryptic Helge Reumann and Xavier Robel's alternate reality, dialogue free comics, Gabrielle Bell's comic panels look like paintings, Kevin Huizeuga's foray into theology with "Jeepers Jacobs", Jorand Crane's western ghost story "The Hand of Gold", Leif Goldberg's colorful insane paintings, Paper Rad's Yellow Submarine type acid trip comic strip, Fabio Viscogliosi's strange old time children's book type illustrations in "Love or Leave a Dunce on Holiday", J. Bradley Johnson's "Brimming with Enthusiasm: A Selection of Early Comics" and Dan Zettwock's head trip of a horror comic "The Ghost of Dragon Canoe".
Books 6 and 7 came out through Buenaventura Press. 6 is a huge improvement over 5, the highlights in this one are the tale of a church haunted house in "Cross Fader" by Dan Zettwoch, reprints of underground Dutch artist Marc Smeets, intro by Chris Ware in "Passing Time", the insane satire of action and kung fu movies with a psychological and metaphorical bent in "Ejector Seat Cadence" by Bald Eagles, the colorful and LSD haze inducing "Kramers Ergot Fuck You" by Paper Rad, Jerry Moriarty's painted comic panels in "Sally's Surprise", vice cop corruption in "Pushing" by Chris C. Cilla, the Aztec high school dramedy in "Jaguar Street" by Matthew Thurber, reprints of Suiho Tagawa's colorful Japanese war propaganda comics from "the Norakuro", X rated Aesops fables from Fabio Viscogliosi in "Pornography for Beginners", the fantasy water color stylings of Sherry Boyle in "The Porcelain Figurine" and the insane world of Elvis Studio by Helge Reumann and Xavier Robel.
7 is a killer, I'd say a literal killer because the thing is hardbound and the size of a old Sunday comic supplement from the 1930's, i.e. giant and I even had a hard time flipping through the thing, you could easily use it as weapon to beat somebody to death. I had problems finding room for the thing, its in full color with glossy pages if you don't lift it right you can get a hernia, however, staring at the giant pages will immerse you even deeper in the stories, now I know why my grandparents were nostalgic about their Sunday comics page. "Kramers Ergot" 7 appeared in 2008 at retail price of 125 bucks because of the cost of putting it together and publishing it, "Kramers Ergot" 7 killed Buenaventura Press. Alvin Buenaventura, the publisher went on to set up another company and ended up committing suicide in 2016, whether it was due to his company going under is speculation. The stand outs in 7 were Shary Boyle's elephant fantasy "Grow Old", Ted May's Frankenstein space adventure in "Cradle of Frankenstein", Daniel Clowes' twisted noir "Sawdust", CF's weird ass fantasy "Crate Cauldron", Kim Deitch's tale of a beer bottle cap collector in"Sex, Drugs and Sweet Music", Chris Ware's tale of a girl with one leg in "Home", the late great Richard Sala's tale of chasing love in an interesting crowd of characters in "I Chase the Bright Elusive Butterfly of Love", Rick Altergott's continuing adventures of his mentally challenged hero in "Doofus", Matt Brinkman's animal/skull/reptilian hybrid one pager, Eric Haven's otherworldly tale of a barfly and reptilian woman in "Reptilica", Matt Thurber's tale of Brian Eno in "Produce the Corpse", Blex Bolex's tale of an artist who is given a offer he can't refuse in "Lost for Life", Will Sweeney's journey of mad scientists, hallucination machines and space in "Chatsworth Miasma", Anna Somers bear hunt gone awry in "Lumberjack's Widow", Helge Reumann's untitled story of his weird world with bearded men and weird deformed creatures who beat and shoot each other and Matt Groenings bunnies losing at the game of life in "Road to Success".
"Kramers Ergot" 8 went way down in size, to almost the size of a pocket book and was put out by Picture Box Press who has put out some bad ass books. It was a tan hardcover with partial gold foil and tangerine colored hexagons on its front, it reminded me of one of the books I'd pull off my grandpa's walnut bookshelf when the dust jacket went missing, the contents of said book would normally be boring. The cover, simple design and color scheme screamed 1970's, this next volume in typical fashion goes in a different direction, this time only some of the pages are glossy and some in color and starts with a boring fucking essay on how without gay people "camp" wouldn't exist, half way through the preachy essay I skipped ahead for the comics. "Kramers Ergot" 8 doesn't disappoint, Gary Panter roars into this weird and twisted future with his recurring character "Jimbo", C.F. gets into strange love in "Warm Genetics House Test Pattern", Takeshi Murata goes art pop culture funky with "Get Your Ass to Mars", Johnny Ryan goes into outer space and gets slaughtered by aliens in "Mining Colony X7170", Anya Davidson has a mean ass bitch kicking butt in "Barbarian Bitch", Sammy Harkham, the editor of this shebang, contributes the weird and terrifying tale of spousal upheaval in "A Husband and Wife" and, last but not least, reprints of the deliciously evil Wanda from 1970's era "Penthouse" magazine gets brought back to life in full color, I see a lot of the old Warren magazine artists of "Eerie", "Creep" and "Vampirella" in Ron Embleton and Frederic Mullalley's art work for "Oh, Wicked Wanda!"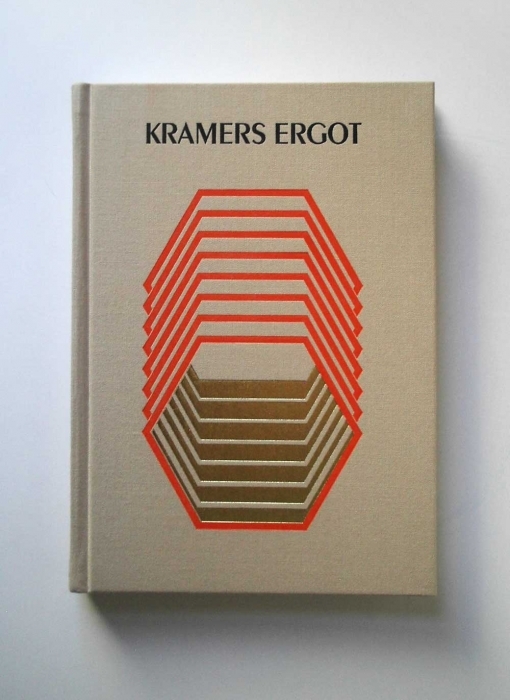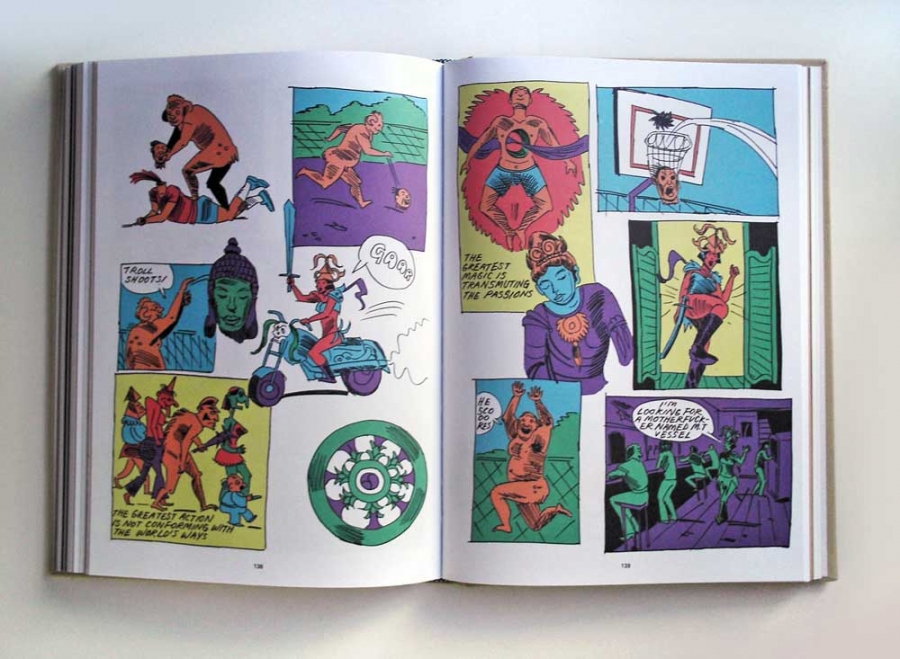 "Kramers Ergot 9" switched publishers to Fantagraphics and switched size, this thing is the size of a telephone book, the other part of the title is "Evil Fully Determined". This time the boring essay is dropped and the comics come on like a freight train. Highlights are Renee French's bird abstract world in "Bjornstrand's Elise", Helge Reumann dives back into his strange mutant/lumberjack world in "Sexy Guns", Anya Davidson channels Pagan Rome/Christian animosity in "Hypatia's Last Hours", Al Columbia has his recurring characters Pim And Francine do a one page nightmare appearance in "Night People" and does another color section on the aftermath of a party from hell from the 1930's in "The Devil's Mansion", Al is a genius, problem is he very erratic in his output, Al was supposed to contribute a full page comic in the oversized 7 but couldn't get anything done, people who know him say he is a "perfectionist" but that to me is another word for lazy and/or procrastinator. Tim Hensley channels old school cartooning into a story about a priest who gets in a "unholy" jam in "I Confess", its all in a days work in "Police Work" by Adam Buttrick, Lale Westvind goes a on a space cannibal ritual retreat in "The Kanibul Ball", Kim Deitch goes down memory lane in a zoo in "Shrine of the Monkey God", suicide goes haywire in "Adieu Cruel World" by Baptiste Virote, Blobby Boys get violent towards infidelity in "Blobby Boys" by Alex Schubert, one criminal gets out of prison but wants to come "home" in "Comics and Gags" by Abraham Diaz, and Jonny Negron has one of his voluptuous vixens get felt up by a 1980's action hero stereotype in his one pager.
"Kramers Ergot" 10 is a bigger volume not as big as the other one, this one was put out by Fantagraphics an affair goes off the rails in Dash Shaw's "Police Woman", Robert Crumb digs into knuckle dragging modern neanderthals in "The Ruff Tuff Cream Puffs", Jason Murphy does abstract in "A Calamitous Exit", Arouk Richard does the duck walk west in "Ducky Co Co", C.F. goes crazy on "Liquid on Neutral", Blutch does face melting action in "Angel Face", Shary Flenniken trots out "Trots and Bonnie" and their sexual misadventures and satire of old comic strips that first appeared in "National Lampoon" magazine, Rick Altergott brings out his immortal and idiotic "Doofus" who klutzs and crashes through his strip, editor Sammy Harkham spins a tale of old Hollywood in "Blood of the Virgin" it is the longest strip and worth the slog, Will Sweeney gets spacey in "The Embigening", Helge Reumann's weird world is great as usual in "Equalizers", a full color reprint of the classic Frank King's "Gasoline Alley", Kim Deitch tells about roaming with Spain and writing underground cartoons in the 1960's in "If It's Weird It Works", and the always cryptic and awesome Lale Westvind with her half shark half lady in "Sarka".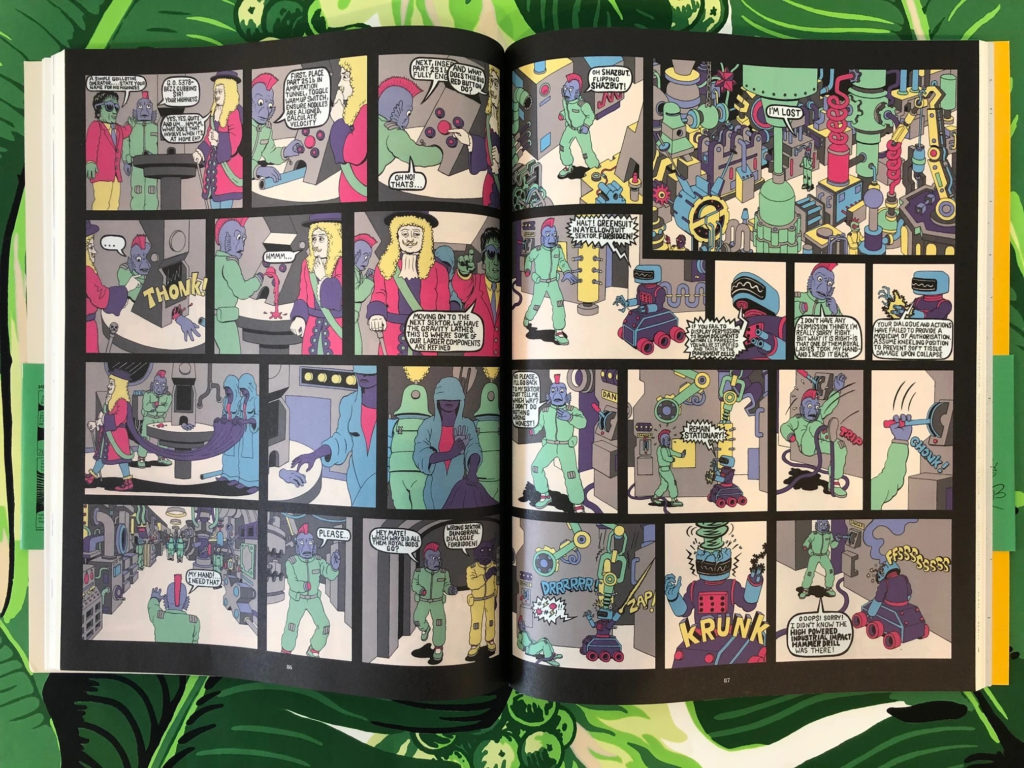 The "Kramers Ergot" volumes before 5 are too rich price wise for my blood, their heavily sought after collectors items. There is some prices I won't pay and the prices for 1 through 4 I won't pay for. "Kramers Ergot" with each volume keeps it interesting, editor Sammy Harkham mixes comic strips and art together seamlessly. Each volume has got its own personality and own flavor, from varying sizes to different artists and content. "Kramers Ergot" is something you can ingest and not see werewolves and want to hunt witches (maybe you will do that after reading these volumes anyways). I sure hope Mr. Harkham does more volumes.
So where do you ingest this ergot? Well go look on ebay and amazon, hate to be lazy but search these out, there is some of these that at reasonable prices, except for the oversized volume 7.
Volumes 1, 2, 8, 9, 10 are available online to digitally ingest here, if you want to be a millennial/zoomer pussy about it: https://comiconlinefree.net/comic/kramers-ergot