They don't make men like Norman Pettingill anymore, hell, you could argue they don't make men today, period. Pettingill seems like he chews bark like gum and could stomp your modern, smart phone scrolling, skinny, whiny ass into the ground with his hiking boots. They also don't make humor like this anymore.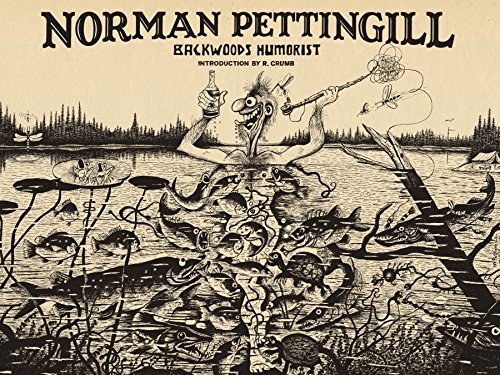 I discovered Norman Pettingill from reading Robert Crumb's "Weirdo" magazine (see my review of "Weirdo" magazine here: http://www.noisepuncher.net/2021/05/19/your-such-a-weirdo-underground-comix-magazine-1981-1993/). Robert Crumb republished some of Pettingill's art work in his 1980's underground comix/cartoon magazine, his art jumped out at me, it was ribald, crazy, chaotic, free spirited and had to see more. So I went to go find out if there was a book and sure enough the fine folks at Fantagraphics put one out, "Norman Pettingill: Backwoods Humorist" in 2010 and this being Fantagraphics who won't do another fucking print run of anything, the book is out of print which is a damn shame because this artist needs more exposure in my opinion.
This a document of a bygone era, when rural America really had its own culture, food and humor, since the urbanization of most of the country and homogenization of culture country wide a lot of this stuff has just disappeared. In "Norman Pettingill: Backwoods Humorist" you'll see some of that past preserved. Most of Pettingill's work was collected and preserved by the John Michael Kohler Arts Center, located in the Wisconsin area, keeping alive the independent, DYI folk art that would otherwise be lost. The Arts center helped with this book.
Norman's grandfather, John A. Pettingill, a farmer and cattle dealer bought the land and started the town Norman was born in on 1896, Iron River, Wisconsin. Norman says he'd been drawing since he was six years old and dropped out of high school in his third year because he wanted to be outside fishing and hunting. John was drafted during World War One and only served in Mississippi for a short period and was discharged when the war ended. Norman lived off the land, his drawing and calligraphy skills. He did calling cards, signs and other jobs until 1946 when he started drawing postcards, printing and selling them from door to door, he'd make a living at it for pretty much the rest of his life. That pretty much sums up this book, you get most of his postcard work as well as his nature paintings. John claims he pretty much didn't get lessons from anybody and was self taught, even when he wrote letters to people he would illustrate them. His bar, hospital, public beach etc. paintings are something else, a cross between Will Elder and Hieronymus Bosch, silly, stupid, profane, carnival like, ribald etc. When looking at a Norman Pettingill postcard you will always find something new or something you missed. That being said if you can find a copy of "Norman Pettingill: Backwoods Humorist" snap it up, there is copies available on ebay and amazon, it might give your wallet and/or paypal account a diet. Robert Crumb does the introduction, Leslie Umberger, the Senior Curator of Exhibitions and Collections at Kohler Arts Cent does the foreword and Gary Groth does the biography. The front cover and back cover are literally made of wood and the book horizontally is oversized to fully show the art. Highly recommended.
Start your diet here, it is 20 bucks digitally if you want to go that way: https://www.amazon.com/Norman-Pettingill-Backwoods-Gary-Groth/dp/1606993194
And here: https://www.ebay.com/sch/i.html?_from=R40&_trksid=p2047675.m570.l1313&_nkw=Norman+Pettingill&_sacat=0