The title of this underground comix series sounds like the title to a bad b movie from the 1950's-1960's at the height of the red scare and I think that is the purpose. This series pretty much satirizes the "Red Scare" and science fiction comics and movies in general, kind of like what the early 1960's card series "Mars Attacks" did. This was published by Last Gasp, first issue came out in 1973.
It was edited by Tim Boxell who would, oddly enough, direct the serialized puppet biker, soap opera segments of "Winter Steele" for the awesome animation anthology show, "Liquid Television", he was also a technical advisor on the Eddie Murphy's oriental occult movie "Golden Child" among other jobs in Hollywood. The series, a lot like Last Gasp's other series, would span years and publish sporadically, in "Commies From Mars" case, after its first issue there would be a six year hiatus before the next one.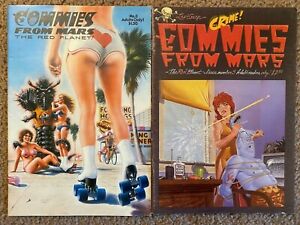 Many authors and artists would come aboard, most from the underground comix world, people like Greg Irons, Peter Kuper, Spain, S. Clay Wilson and Kenneth Huey which gave the series variety and kept interesting. Different strips explored different themes, some were straight up satire, some action, eroticism (especially between humans and aliens), science fiction, propaganda, societal control and social mores while not taking itself seriously.
In those fourteen years six issues came out, I first stumbled across this series while reading old "Heavy Metal Magazines", the ads in the back were from Last Gasp Publishing's underground comix satire line up which featured "Cocaine Comix", "Young Lust" and "Commies from Mars", when I read that title I busted up laughing, it brought to mind those corny and cheesy 1950's B monster movies I used to watch while stoned on a Saturday night on the local public access station. I forgot about the title until I started going through my "Heavy Metal Magazines", I was hoping I wouldn't have to dig into my wallet to buy the series issue by issue. Luckily, Last Gasp released all six issues in one beautiful book.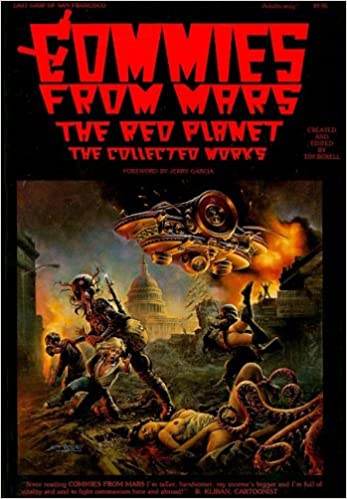 "Commies from Mars The Red Planet The Collected Works" will set you right. Jerry Garcia from a band I fucking hate, The Grateful Dead, does the foreword and Tim Boxell gives warning about the "Martian Extermination Legion" knocking on your door at 2AM. There was very scant info on this series and its publishing, nonetheless the mystery adds to the mystique of this series. This comes highly recommended from me, visual white noise every noise addict should search out and inject in their veins. THE MARTIANS ARE COMING! THE MARTIANS ARE CUUUUMMMMINGGGGG!!!!