"Horrorgasmo: Psychotic Art For New Mutants" could only be vomited forth from the minds of Italians. The same nation that gave us Fulci, Bava and Argento also gave us this "art book" in limited quantities and the reason why I put quotation marks around art book is because I doubt the four people contained in this book, as well as the editor, want their names associated with the art scene of the late 1990's to early 2000's as full of itself as it was.
Limited to 999 copies (I have copy 944) you can tell a lot of this stuff was inspired by the great Charles Burns. Alessandro Papa had a comics shop in Italy called "Mondo Bizzarro" and he seems to be the one that put this volume together, he said in 1997 that Stefano Zattera, one of the artists in the book, came into drop off some zines he had put together, Papa said he thumbed through them and was blown away and in his words the zine was packed with "Posters of incredibly strange imaginary B movies, demented strips, "sick" and ultra extreme cartoons, all drawn with great technical ability in classic comic style. It was as if some ageing maestro of the American pop era had sold their soul to the devil."
In another one of the zines that Papa leafed through was the art of Dast whose work is also in the book and was very impressed and Dast ended up having Zattera design the cover of his own Healter Skelter magazine. A year later Papa met Dast and Zattera at their "Horrorgasm" exhibition consisting of the aforementioned artists, Spiderjack and the veteran Italian cartoonist Gianmaria Liani. That is when Papa decided that these artists couldn't stay hidden from the world and that they needed their own book which is "Horrorgasmo".
All four artists come from the Veneto region which is a region that is pretty conservative and Catholic, maybe the repression created some deviant artists. Whether you buy that commonly held conception is up to you, maybe its bullshit. The first artist in this book is Stefano Zattera, he is the founder of Delirio Communications, in which he not only publishes his own work but other artist's work. His work has appeared in various books and mags, as of now he still does work. Today he calls his work "Apocalyptic Surrealism" in which he still lampoons 1950's and 1960's pop culture as well as B movies. His work is in the first part of the book and already you can see his satire of retro junk culture, his art is my favorite in the book. Mutants and aliens fucking in a alternative 1950's universe where bondage is widely accepted.
Next up in the book is Gianmaria Liani who has done art work for various magazines as well as the American magazine "Malefact", he has also done his own comics and produced illustrations for the book "LupinIII" and it looks like he still does work and has a few books published underneath his belt. Liani's work is sado masochistic and involves cannibalism and like Zattera he seems to lampoon retro junk culture. There is part of a comic strip on one page and fake movie poster on another one.
Spiderjack is gonna fuck you up good with his "cute characters" getting sucked, pummeled, stabbed etc. Just like the other artists in this book he has had his stuff published in various Italian magazines and is the author of a trading card book called "Ebryotica" which is just as weird and screwed up as his section in this book.
Last but definitely not least is Dast who is co founder of Delirio Communications along with Zattera who I've mentioned release fucked up zines, art and magazines. He has had his work published in various weird art magazines and other places as well as "Malefact" here in the US, and "Stripburger" in Slovakia not much more I can find on him don't know if he does art nowadays anymore. Any search I tried came up with another Dast who is a musician. Dast's art consists of stumpy and ugly hermaphrodites sucking, fucking and killing each other so that is that.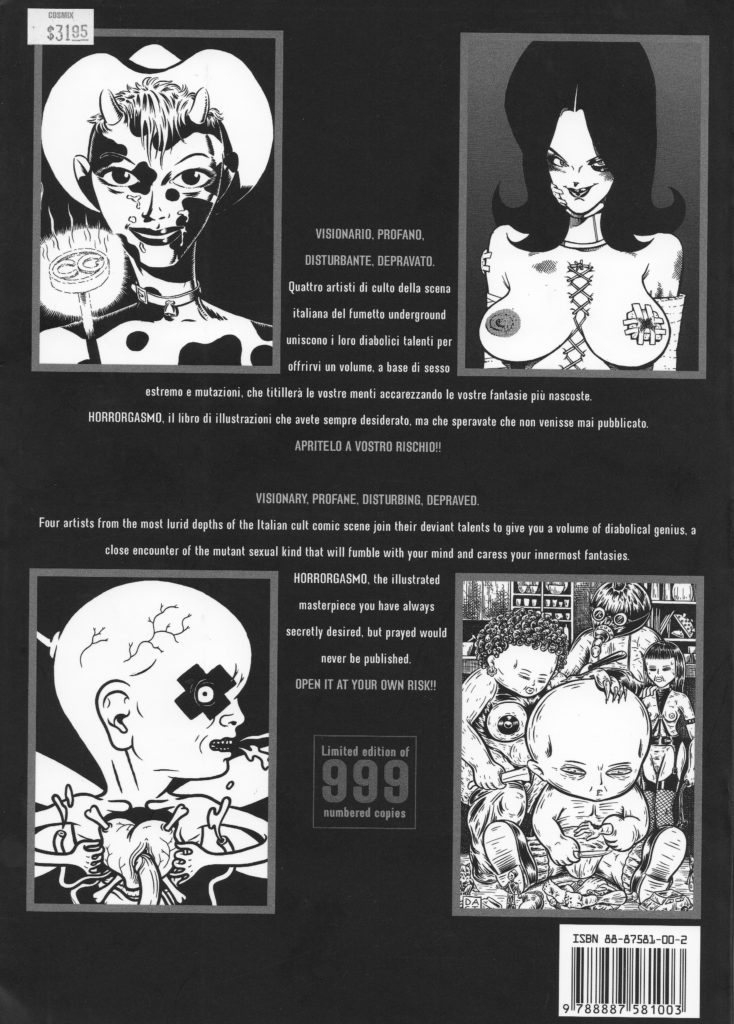 This book comes with Italian as well as English texts and the whole thing is in black and white which really makes the visual white noise pop aggressively. This book isn't for the feint of heart there is debauchery, mutant and tentacle sex and violence. Some pieces lampoon religion, some try to push the boundaries of what is excepted in the art world. Over all sometimes I think this book tries too hard to shock, if this up your alley you aren't in luck I bought my copy off of Abebooks and now doing a search it is nowhere to be found, it kind of pisses me off when books are released in limited quantities, kind of a hipster thing to do if you ask me. In closing if you wish to have this in your possession good luck finding it.