So what to say about this piece of visual white noise? Its a horror movie…about killer "Shrunken Heads". Who would make such a movie you ask? Richard Elfman (director), Danny's brother and Charles Band (producer) of Full Moon infamy of course. You think any major studio would touch a movie called "Shrunken Heads" about killer shrunken heads? Well they make shit like "Avatar" and "Captain Marvel" so its possible they would make something like this but it wouldn't be executed the same way this was, that is weird and creepy. A gang of 30 year olds harass 12 year old boys and the gang leader's girl looks like she is 12…uh yeah this movie is off to a rip roarin' start.
The three boys are Tommy (Aeryk Egan), Freddy (Darris Love who has been in a whole bunch of stuff like "Buffy the Vampire Slayer") and Billy (Bo Sharon) who sit around, read comic books and in Tommy's case, work in his dad's grocery store. The creepy adult gang called "the Vipers" picks on them and is led by Vinnie (A.J. Damato) whose 12 year old girlfriend Sally (Rebecca Herbst who you've seen in every 1990's sitcom when one of the major characters needed a love interest for that episode) has a crush on Tommy, somebody actually her own age. The boys are also friends with a Haitian Voodoo priest who runs a comic book stand in their neighborhood, Mr. Sumatra (played by the late great Julius Harris who you've seen in everything). Tommy intent on getting revenge on Vinnie, kisses Sally and films his gang ripping off a car, he hands the tape over to the cops and the gang gets arrested. Vinnie gets away and goes to the local mob boss Moe (played by Meg Foster in male drag, love this actress, she is in so many low budget, B movies it isn't even funny) to tell her and get money to bail out his buds. Moe also wants Vinnie to kidnap the boys, after getting out of prison the Vipers do just that but the boys get loose and steal bags of gambling slips to hand over to the cops, Moe orders Vinnie to kill them.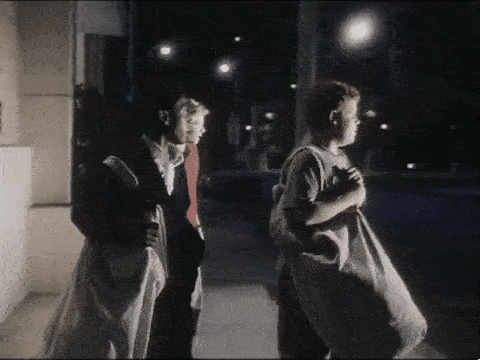 Yep kids get iced in this movie, this early in the movie you get an underage girl dating a 30 year old grease ball, a transgender mob leader and kids getting killed for gambling slips. Wooo. Damn but things are about to get hotter because Mr. Sumatra knows what really happened and he slips into the funeral home to get the murdered kid's heads, he shrinks them and revives them with a voodoo ritual to get revenge. Each one has a different power, Tommy can shock people, Freddy can get people with a switch blade he carries in his mouth and Billy has vampire teeth that sucks people dry. Mr. Sumatra teaches them how to use their powers and did I mention these Shrunken Heads can fly? He then sends them out to get revenge.
They first practice on other criminals before moving up to the Viper gang and Moe. Sally still has the hots for Tommy and has a picture of him by her bed which later leads to some uh hum uncomfortable and laughable scenes. Whoever wrote this was a fucking genius…the person probably did too much coke and drank too much cheap vodka. Out this popped and the only person they could get to direct something this insane was Richard Elfman, who directed the awesome disasterpiece "Forbidden Zone", then he gets his brother, Danny Elfman, who did music for Tim Burton's "Batman" and was the lead singer of Oingo Boingo to do the music for his movie, and not only that the Oingo Boingo song "No One Lives Forever" in the movie. They only spent a million (and it shows) on this thing, practicing nepotism, Richard puts his son Bodhi in as the Viper gang member, Booger and this was Full Moon's first theatrical release since most of all of Band and company's releases were straight to video or cable. I couldn't find the box office take on this thing, I imagine it wasn't that big of take.
I don't want to spoil too much but the people who get killed by the "Shrunken Heads" become zombies who don't kill and eat people, they pick up litter, clean graffiti off walls and help old ladies across the street. Yep this visual white noise is insane, some are gonna see this as a mess, this is damn beautiful mess son and I enjoyed every damn minute of it. I wasn't bored like I was at Marvel's "Endgame", I kept looking down at my phone wondering when this bloated, overripe, CGI enhanced piece of shit was gonna end so I could go to the taco shop outside the mall. Flying, killer, "Shrunken Heads", what more can you ask for?
Meg Foster as Moe above.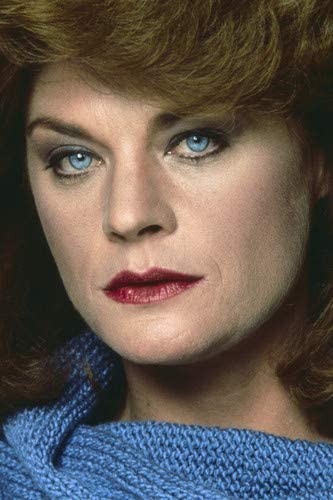 Meg Foster from "They Live". Heh. Heh. Heh.